1. The first actress Who Was Glamorous Into Magazines
Priyanka is the woman who is hardworking and passionate about her work. She was in featured cover page in September magazine where she looked amazing. Many of the celebrities like Chris Evans Christopher Robert Evans (Chris Evans) is a promin >> Read More... , Kanye West Kanye West is a Hollywood singer, hip hop recordin >> Read More... , and other few people who enjoy the Hollywood supremacy and even Priyanka is one of them.
...
2. The first Indian to collaborate with International Musician
Before stepping for Hollywood movies, Priyanka first tried in music where she were paired with William for the song 'In My City' which became hit that sold out to 130,000 copy and also won People's Choice for Best International Debut.
...
3. The first Women who are displayed in school text books
...
Priyanka achievement was so large that she were recognized in school text book of CBSE Board in Environmental Studies Book where her inspirational stories was depicted, and therefore she becomes a successful celebrity. The first chapter explains about her home where she shifted homes that cover her life story. It is very surprising where an actress is first time respected in this way.
4. Guinness Book of world record
In 2009, the film What's Your Rashee may not hit in the box office but then she got a Guinness Book World Record as she played 12 different characters in a single movie.
5. South Asian That Won People's Choice Award
Priyanka is the first South Asian actress that brought out the headline of an American show that won, 'People Choice Award' for favorite TV star.
6. UNICEF Goodwill Ambassador
Priyanka is has done a remarkable work for the underprivileged right, child rights, woman rights that bring out her foundation and helps for the people/children for Health and Education and donates 10% of her income to the foundation. Excluding to this, she helps out in other charity homes and also speaks about Women Empowerment and child welfare. Since 2009, she works for UNICEF to promote child welfare and education. After then in 2010, she was declared as a Goodwill Ambassador.
7. Priyanka Tops Into Endorsement Chart In India
Priyanka is a reliable Brand Ambassador who is just not making money but also getting a lot of reorganization in a brand endorsement. In 2009, her name was on top for Brand Endorsees, who beat all another top brand Ambassador like Shahrukh Khan and much more. She is a brand ambassador for Pepsi, Garnier, Nokia, and others. She is now an idol for many youngsters who are starving to become like her.
8. She Couldn't Get Her Miss World Crown Forever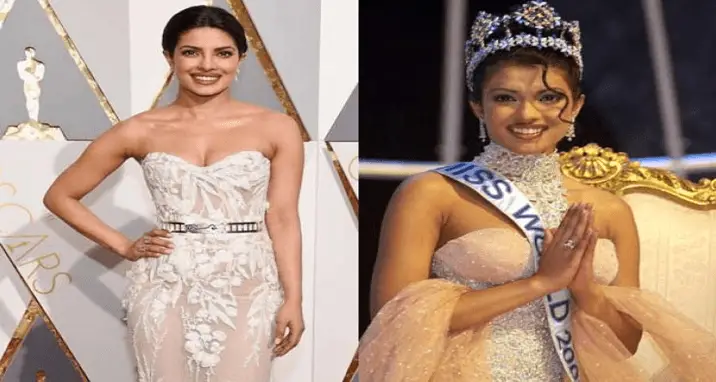 Miss World Crown was crowned to her in 2000, but then she couldn't keep it with her as it was made up of sapphire and solitaries, so they didn't give her back as it was circulating in years from now
9. Three Things She Want To Do That Are On Bucket List Bucket-List is an Indian television itinerary show >> Read More...
Firstly she wanted to go every part of the island in the world, second she wants to have many babies, and the third one is still left for her to think on.
10. Global Superstar
After Priyanka's great success in her international projects, she is ruling the full global. The global star gives India message about, how much she misses her him and love everyone. Priyanka also speaks about her religion where she says that she always prayer first then start her daily work as she would be away from evil one.