The industry witnesses a lavish life style. The stars spend huge amount of money on things common people cannot imagine to afford. Money is the least of their concern. Though they earn it by their hard work, the work they do gets paid ten folds. They do not hesitate to flaunt the money they get. Now, it has become a trend that even a small favour is returned by a huge gift. Such occasions are:
1. Abhishek Bachchan Abhishek Bachchan, or Abhishek Srivastava, is a ve >> Read More... and Aishwarya Rai Bachchan Aishwarya Rai Bachchan is a popular Indian actress >> Read More...
The hot and happening couple of Bollywood was blessed with a baby girl, and they named her Aaradhya Bachchan Aaradhya, which is apparently a Sanskrit word whic >> Read More... . On her first birthday, the couple gifted their baby not a toy car but a real mini cooper. The little princess would not have known the price of her gift at the age of one, but when she grows up, she would be delighted to be born in a family like this. The cost of the car was worth Rs. 25 Lakh.
2. Shah Rukh Khan Shah Rukh Khan or also known as SRK is a prominent >> Read More...
King Khan worked in a Sci-Fi movie "Ra. One," and he was so happy to work in this movie that he gifted five members of the movie a BMW7 sedan. The hero didn't think twice about spending this huge amount of money. Each car cost him Rs. 1 Crore each but why would he care.
3. Aditya Chopra Aditya Chopra is an Indian film director, scriptwr >> Read More...
They both are now a married couple and have a baby together, but initially, it was rumored that Aditya proposed Rani Mukerji Rani Mukerji is one of the most celebrated Indian >> Read More... with a car, an Audi A8. This beauty is of worth Rs. 1.5 Crore. How could Rani say no?
4. Ajay Devgan Ajay Devgn is an Indian film actor. He is perhaps >> Read More...
The most intense couple of Bollywood was in headlines as the Singham of the industry gifted his wife Kajol Devgan Handpicked videos of Kajol Devgan... >> Read More... an Audi sedan worth Rs. 35 Lakh, when she delivered their baby girl Nysa. This was his rowdy way of showing how happy he was with the child.
5. Raj Kundra Raj Kundra, a business magnet from London, United >> Read More...
This famous businessman gifted his wife Shilpa Shetty A model turned actress, producer, entrepreneur and >> Read More... a house amongst the clouds. He presented her with an apartment in the Burj Khalifa on the 19th floor. The price of the flat is estimated to be around Rs. 50 Crore, but that's just one of the gifts he gifted her.
6. Vidhu Vinod Chopra Vidhu Vinod Chopra is a classic filmmaker, who h >> Read More...
Chopra is a very rampant name in the industry, and Vinod made good use of it. He gifted Amitabh Bachchan Amitabh Bachchan was conceived on October 11, 1942 >> Read More... a fresh Rolls Royce worth Rs. 3.5 Crore. This was his way of saying thanks to Big B for acting in the movie Eklavya.
7. Siddharth Roy Kapur Siddharth Roy Kapur is an Indian businessman, film >> Read More...
The chief of UTV took it to a grand level, and gifted his wife, Vidya Balan Vidya Balan is an award winning Bollywood actress >> Read More... an apartment in Juhu. This is a gorgeous flat having the view of the Arabian Sea, and estimated to be approx. Rs. 30 Crore.
8. Salman Khan Salman Khan is a very famous Indian actor and a pr >> Read More...
He is a man with big heart, and he gifted his co-actress, Jacqueline Fernandez Jacqueline Fernandez is one of the top actresses i >> Read More... a Buddha painting as a token for her outstanding work in the movie Kick with him. The painting is worth Rs. 2.5 Crore.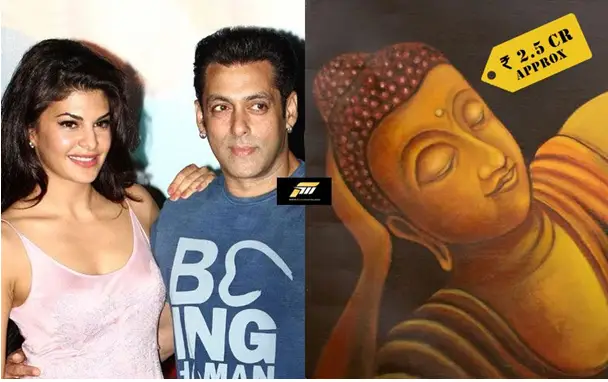 9. Sidharth Malhotra Sidharth Malhotra is an Indian actor who was born >> Read More...
This Delhi guy proved how big heart he has. He gifted his co-star, and his rumored girlfriend, Alia Bhatt Alia Bhatt is a trendsetting actress from Mumbai, >> Read More... with an antique and unique camera which also has a selfie mode. The gift is of about Rs. 1.5 Lakh.
10. Aamir Khan Aamir Khan or Mohammed Aamir Hussain Khan is Bolly >> Read More...
Mr. perfectionist knows to handle the relations, and so he gifted his wife a holiday home in the Beverly Hills. Now that's classic. It is of about Rs. 75 Crore.