Every year there are new songs are evolving with different genres. Bollywood music industry has never grow old and takes into ancient times which never been boring ever. These are top 10 retro song which is old but still gold, as people cannot forget these songs forever.
1. Abhi Na Chod Kar:
This song Abhi Na Chod Kar is a romantic song, sung by Asha Bhosle Asha is considered to be the second greatest femal >> Read More... and Mohammad Rafi, that has a meaningful song and has a simple lyrics which wasn't difficult for singers to sing it like Asha Bhosle and Mohammad Rafi has shown their effort to the song immensely with and vocal scale which goes high or low pitch.
...
2. Dil Ka Bhanwar Kare Pukar:
This is the track of Rafi Mohammad from the movie Tere Ghar Ke Samne, performed by Nutan and Dev with their great facial expression, directed by .
...
3. Humein Tum Se Pyar Kitna:
...
The movie Kudrat by Chetan Anand Chetan Anand (from 3 January 1921 to 6 July 1997) >> Read More... is a reincarnation story. Humein Tum Se Pyar Kitna, singer Kishore Kumar Kishore Kumar is an Indian playback singer, who ha >> Read More... , who got many Awards for this song which was a hit one, lyrics of Majrooh Sultanpuri Majrooh Sultanpuri was born in Sultanpur on Octobe >> Read More... , music directed by RD Burman. The female version of the song got awards by Filmfare award to Parveen Sultana Parveen Sultana is a leading Indian classical voca >> Read More... .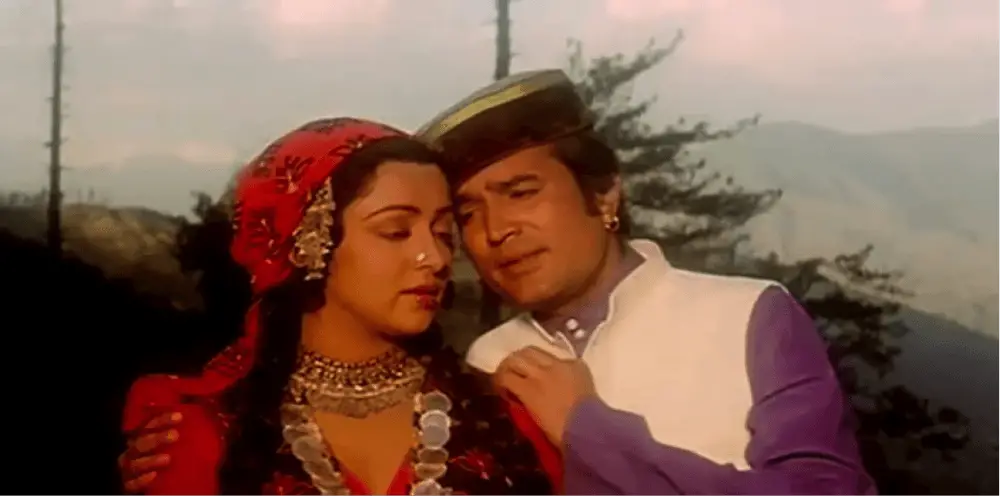 4. Lag Ja Gale:
...
This melodious song Lag Ja Gale, singing by Lata Mangeshkar Lata Mangeshkar, the veteran playback singer had >> Read More... was a magical essence from the film Woh Kaun Thi in 1964, composed by Madan Mohan Madan Mohan Kohli born on 25thJune 1924 in Iraq (B >> Read More... . Lata Mangeshkar tweets about the romantic song which has completed 50 years which is hummed by most of us, even today. This song is also put into an advertising campaign, and incidentally, the song dropped in Karan Johar's short movie Bombay Talkies Click to look into! >> Read More... .
...
5. Tum Itna Jo Muskura Rahe Ho:
The beautiful words of Gulzar, lyrics of Kaifi Azmi Kaifi Azmi is born as Sayyid Akhtar Hussein Rizvi. >> Read More... , singer , who has a unique voice; from the movie Arth, which is an autobiography picture over marital affairs by Mahesh Bhatt Filmmaker Mahesh Bhatt created a niche for himself >> Read More... . The lyrics refrain a smile to one face.
...
6. Tere Bina Jiya Jaye Na:
...
Movie Ghar, song singer Lata Mangeshkar sings Tere Bina Jiya Jaye Na, composed by R.D Burman has a sweetness touch to the originality of the song. The music is unique but has a complication, where the scale shifts to Mukhda to Antra, but Lata Mangeshkar delivered the song so wonderfully.
7. Tere Bindiya Re:
Lata Mangeshkar sings Tere Bindiya Re from Abiman in 1973, featured by and Jaya Bhaduri; the music had a divine and spiritual atmosphere, composed by B.D Burman with his style that delivers memorable time.
8. Yeh Wada Raha:
Asha Bhosle and Kishore Kumar enjoying singing the title track Yeh Vada Raha, that has an Indian melody mix into it, which had a influential effect on the film. The song is worth hearing every single time, which never would bore us. The music director R.D Burman and Lyrics by Gulshan Bawra Gulshan Bawra is an Indian actor and singer. His r >> Read More... .
9. Aa Mere Humsafar:
Qayamat Se Qayamat Tak, a blockstar cinematic movie created by T- Series. The song Aa Mere Humsafar, feature by Aamir Khan Aamir Khan or Mohammed Aamir Hussain Khan is Bolly >> Read More... and Juhi Chawla Juhi Chawla is a renowned Indian actress and produ >> Read More... , composed by Mithoon, lyrics by Amitabh Verma, sung by Alka Yagnik Alka Yagnik is a very popular playback singer of t >> Read More... and Udit Narayan One of the famous playback singers of Indian Film >> Read More... .
10. Ajeeb Dastan Hai Yeh:
Lata Mangeshkar sings Ajeeb Dastan Hai Yeh which is a party song that is the memorable song. Shankar Jaikishan Shankar Jaikishan is a duo musical composer in Bol >> Read More... handles the music and also was awarded in Filmfare for Best Music Director.