Marathi cinema has a rich tradition of storytelling and has produced multiple classic pictures over time. While Bollywood dominates the Indian film industry, Marathi cinema has sculptured a niche for itself with its unique mix of local flavor and universal themes. numerous Marathi pictures have won critical acclaim and made an impact on followers worldwide. In this blog, we will explore the top 10 Marathi films that made an impact worldwide. These films showcase the different bents of Marathi filmmakers, actors, and technicians, and represent the best of Marathi cinema. From classics of history to modern masterpieces, these films have left an ongoing impact on the world of cinema.
1. Natsamrat (2016)
A Marathi drama film by the same name, Natsamrat, was released in 2016 and was produced by Mahesh Manjrekar Mahesh Manjrekar is a renowned actor, director and >> Read More... . The movie is about a retired actor who battles to adjust to the ups and downs of life after he retires. In the critically acclaimed and financially successful movie, the main actor Nana Patekar Nana Patekar is a popular Indian actor who was bor >> Read More... gave a strong performance. The movie looks at issues like family, affection, and the state of humanity. The National Film Award for Best Marathi Feature Film and the Filmfare Award for Best Film were among the honors Natsamrat received.
...
2. Fandry (2013)
Nagraj Manjule Nagraj Manjule is an Indian film director, writer, >> Read More... 's 2013 Marathi drama film Fandry was aired. Through the eyes of a young boy called Jabya from a lower caste community, the movie examines the problems with casteism and discrimination. Jabya's battle to get past social constraints and realize his dream of having a pet bird is portrayed in the movie. Fandry won praise from critics for its potent depiction of caste prejudice and its effects on both people and communities. The movie received numerous honors, including the Indira Gandhi Award for Best Director Debut Film at the National Film Awards The National Film Awards gets presented every year >> Read More... . Fandry is regarded as a landmark movie in Marathi cinema, and its societal commentary has received a lot of praise.
3. Court (2014)
The court, a 2014 Marathi courtroom drama film directed by Chaitanya Tamhane Born on 1 March 1987 in Mumbai (Maharashtra). Grad >> Read More... , was aired. Through the trial of an elderly folk singer who is accused of encouraging a manhole worker to commit suicide, the movie examines the Indian judicial system. The shortcomings, complexities, and effects of the judicial system on people and society are highlighted in the movie. The court garnered favorable reviews and several honors, including the Best Film Award at the Mumbai Film Festival and the National Film Award for Best Feature Film. The movie has received a lot of praise for its accurate depiction of the legal system and its effects on marginalized groups.
...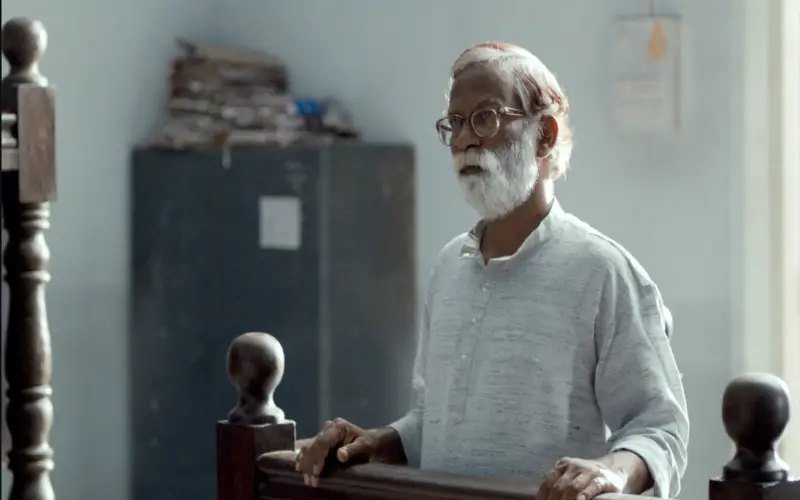 4. Killa (2014)
Avinash Arun's Marathi coming-of-age drama film Killa was premiered in 2014. The story of the movie centers on a young boy called Chinmay who, after the passing of his father, relocates with his mother to a small village in Maharashtra. The movie shows Chinmay's battle to adjust to his new environment and get over his loss. Killa garnered favorable reviews and several honors, including the Berlin International Film Festival's Crystal Bear for Best Film. The film has received a lot of praise for its accurate depiction of childhood feelings and the splendor of Maharashtra's Konkan region.
...
5. Harishchandrachi Factory (2009)
The Marathi biographical film Harishchandrachi Factory, which was helmed by Paresh Mokashi Paresh Mokashi is an Indian director who worked fo >> Read More... , was premiered in 2009. The movie depicts Dadasaheb Phalke's struggles to produce Raja Harishchandra, India's first feature-length motion picture, in 1913 as a tribute to the man regarded as the patriarch of Indian cinema. The movie shows how passionate and committed Phalke and his group are, overcoming many challenges to succeed. Critical praise and accolades for Harishchandrachi Factory include the National Film Award for Best Feature Film in Marathi. The movie has received a lot of praise for how accurately it depicts Phalke's addition to Indian cinematic history.
...
6. Shwaas (2004)
Sandeep Sawant's Marathi drama movie Shwaas was aired in 2004. The movie is about a young child who has a brain tumor and his grandfather's attempts to save him. The movie examines the morality of medical care as well as the theme of life and mortality. Shwaas, India's formal submission for the Best Foreign Language Film category of the 77th Academy Awards, also took home the National Film Award for Best Feature Film in Marathi. The movie, which continues to be a milestone in Marathi cinema, won a lot of praise from critics for its potent acting and heartwarming plot.
...
7. Jogwa (2009)
Rajiv Patil's Marathi movie Jogwa was aired in 2009. The Jogtin tradition, in which young females are coerced into prostitution as a matter of religious ritual, is examined in the movie. The movie follows a young pair as they leave their village to avoid the Jogtin custom and begin a new life. Jogwa addresses touchy subjects like casteism, societal stigma, and gender discrimination. The movie won praise from critics for its potent acting, compelling story, and realistic portrayal of social problems. One of the greatest Marathi movies ever produced is Jogwa, which has received numerous National Film Awards.
...
8. Kaksparsh (2012)
Kaksparsh is a Marathi film released in 2012, directed by Mahesh Manjrekar. The film is set in the pre-independence era and revolves around the life of a Brahmin family. It explores themes of love, betrayal, caste discrimination, and social change. The story follows the lives of two couples, one from the Brahmin community and the other from the untouchable Mahar community, who face challenges from society for their relationship. Kaksparsh was critically acclaimed for its excellent direction, performances, and strong portrayal of societal issues. The film won several awards, including the National Film Award for Best Feature Film in Marathi.
...
9. Vihir (2009)
Vihir (The Well) is a 2009 Marathi drama film directed by Umesh Vinayak Kulkarni Umesh Vinayak Kulkarni is a director predominantly >> Read More... . The movie tells the story of two young cousins, Sameer and Nachiket, who share a close bond until Nachiket's family moves away to the city. Years later, Sameer learns of Nachiket's death and returns to his village to find out what happened to him. As he searches for answers, Sameer comes to grips with the harsh realities of life and the deep connections he has with his family and community. Vihir is a poignant exploration of the complexities of human relationships, beautifully shot and brilliantly acted by its cast.
10. Sairat (2016)
Sairat, directed by Nagraj Manjule, is a love story set in the rural areas of Maharashtra. The movie captures the essence of rural Maharashtra, its people, and its culture. The film is the story of two young lovers, Parshya and Archi, who belong to different castes and face opposition from their families and society. The film beautifully showcases the struggle of the young couple to overcome social barriers and their determination to be together. Sairat was a massive commercial and critical success and was screened at many international film festivals. The movie is a tribute to the resilience of the people of Maharashtra and their spirit of love and acceptance.