The little Bhatt is young but quite dominant in the industry. She has shown how fantastic her fashion sense is, and has been amazing people ever since she stepped in the industry. We have seen her experimenting with sunglasses a lot, and by now we know that she is probably in love with them. The girl is fun loving, and is quite conscious for her eye wear, and why shouldn't't she be, there is sun when we are out. Sunglasses are a fashionable way of protecting your eyes.
1.Transparent glasses are a trend
The gorgeous lady wore these sunglasses with utmost adorable combination with a blue pastel dress having a floral design. The hair was perfectly tied back, and messed up. The makeup was light, and natural. The lip color was natural pink. 
...
2. The vintage round retro glasses
These glasses can prove to be savage when worn with the perfect outfit. Alia Bhatt Alia Bhatt is a trendsetting actress from Mumbai, >> Read More... wore them with casuals, and damn; she looked hot. Her white tee and denim jeans were perfect. Also, her short straight hair went pretty well with the look.
...
3. The Bohemian style aviator
...
These gorgeous aviators worn by the fashion princess are just the perfect match with her outfit. The kurta is cold shoulder, and has tribal print on it. The colour is off-white- creamy. Her short, open, left parted hair also enhanced the look. 
4. Blue Round glasses
...
Man this look is becoming a great hype. There is a lot of blue in the pic, and we love it. The dark blue tee with light blue denim long jacket, and then denim shorts. The reflectors were best with this outfit. 
...
5. The tiny round glasses
These glasses are making your sunglass game too strong. Alia and Varun can be seen twinning in sunglasses where Alia was wearing all olive green with a drape.
...
6. Oversized aviators? Yes please.
...
These beige colour aviators worn by Ms. Bhatt are giving sunglasses goals. She wore it with metallic colour, full sleeves pullover, and blue denim. 
7. The brown reflectors
Alia Bhatt is proving time, and again that she has best sunglasses game. The muffled sleeve blue top with dark blue denim and brown round retro reflectors are a big yes.
8. Pink is the new hotness
This picture of Alia went viral, and most viewed. I guess, the girls are not following this look of hers where she is wearing oversized pink round glasses, and drinking her strawberry smoothie.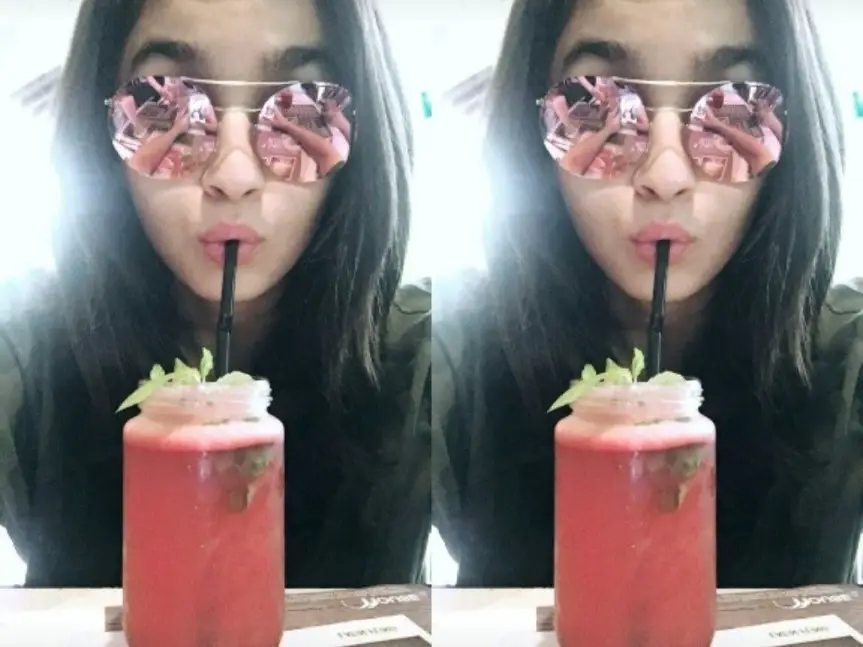 9. The bright aviators
The hot chic is wearing a tee shirt dress, and white sneakers. But, to funk it up, she is wearing bright sunny reflector aviator and giving the paparazzi a chance to get great picture, and give a clear fashion statement.
10. The oversized neon aviators
Get out of the boring colors, and go neon with Alia. This picture is showing how she proudly wore huge reflector aviators, and is giving the perfect pout. This is a picture from her Instagram story, and we all are going mad over her this style.