The south has always been making great films. It has been entertaining the audience for a very long time. As a result people grow fond towards the south cinema. Movies have constantly been remade in Hindi from other languages such as Telugu, Tamil, Malayalam, etc. Here is the list of 10 movies, which have been remade in Bollywood from the South, and some of which are yet to be released and some have already been released.
Ok Jaanu OK Jaanu is a romantic serial in the Telugu langua >> Read More...
" O Kadhal Kanmani Click to look into! >> Read More... " is the Tamil version of Bollywood movie " OK Jaanu Click to look into! >> Read More... ", which was released out back in 2015. Thus, OK Jaanu, is a remake of a Tamil movie, which had Mani Ratnam Mani Ratnam is an Indian filmmaker deeply rooted t >> Read More... as its writer, director, and producer. The film weaves about romantic tale of a young boy and girl, who get into a live-in relationship and then pass the test of managing their career and relationship.
Drishyam
A remake of a Malayalam film, by the same name, Drishyam was released in 2015. This is a suspense thriller, the story keeps on serving different twists and turns throughout. The movie shows the love the male member has for his family, as he takes the responsibility of saving his family from the outcomes of a mistake. The mistake was the murder of the son of an influential person by hero's wife and daughter when the boy was blackmailing his daughter.
Singham-3
The movie Singham-3 is scheduled to be release in 2017, and it is a sequel to Singham returns, which was also remake of its Tamil counterpart. Singham-3, the Bollywood remake is going to be made from the Singham 3 of Tamil Cinema, having Hari as its Writer and Director. It is a Masala-Action Film.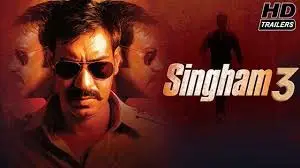 Force
Directed by Nishikanth Kamath, Force is the remake of the Tamil movie Kaakha Kaakha. The movie belongs to the genre of Action, starring John Abraham Like some of our sexy stars, John Abraham has had >> Read More... , and Genelia D'Souza. The film revolves around a police officer who works in the Narcotics Department and only aims at fighting against crimes.
Gabbar Is Back Click to look into! >> Read More...
Gabbar is Back, made in 2015, is a remake of a Tamil thriller, named Ramanaa which was released back in 2002. The movie features Akshay Kumar Akshay Kumar was born on 9th September 1967 and hi >> Read More... as the male lead actor and Shruti Haasan Shruti Hassan is an Indian film actress born on 28 >> Read More... as the female counterpart. This movie is an Action-Thriller and is based upon the concept of how a man fights through corruption and wrong-doings by not coming out in the open to everyone.
Holiday - A Soldier Is Never Off Duty
Produced, Directed and Written by Vipul Shah and A.R. Murugadoss this movie is a remake of the film Thuppakki. Starring Akshay Kumar and Sonakshi Sinha Sonakshi Sinha is a well-known Indian Actress. She >> Read More... , the film is based on an army man who is an undercover intelligence officer. He visits his home during his holidays, only to find that his city is under the possibility of bomb attacks. The story goes on how he not only saves his hometown but also catches the ones involved in the crime.
Akira
Made by A.R.Murugadoss, Akira is a remake of the Tamil thriller Mouna Guru. Starring Sonakshi Sinha, Akira is a women-centric film, in which the female lead, is taught since her childhood by her father, that she must raise her voice against the wrong. Following these principles, she finds herself, stuck in problems, she fights her way out of everything while helping others in need. Girls have all the power in them, and they are their one true self armor, is the message the movie brilliantly delivers.
Shortcut Romeo Click to look into! >> Read More...
Shortcut Romeo, is the remake of Tamil film, Thiruttu Payale. Starring Ameesha Patel Ameesha Patel was born on 9th June 1975. She is an >> Read More... , Neil Nitin Mukesh This handsome actor was born as the son of Nitin M >> Read More... and Puja Gupta Pooja Gupta or Puja Gupta, is a Bollywood Actress >> Read More... , Shortcut Romeo belongs to the genre of Action Crime thriller. Shortcut Romeo is the movie with which Ameesha Patel has made a comeback in Bollywood after a long break.
Theri
Rumors are that Rohit Shetty Rohit Shetty is a famous Director in Bollywood who >> Read More... wishes to get the rights of remaking the movie Theri in Hindi in Bollywood. Thus, lined to be made, and yet to be named, this film will probably have Shah Rukh Khan Shah Rukh Khan or also known as SRK is a prominent >> Read More... in the lead male role. Theri was made by Atlee.
Visaranai
Priyadarshan, a Director has already bought the rights of remaking the Tamil movie Visaranai in Hindi. Originally made by Vetrimaan, Visaranai has been a huge success in the South already, and also has been India's entry in Oscar for the year 2017.