1. Satyajit Ray Biographies reveal bare details about the maverick >> Read More... :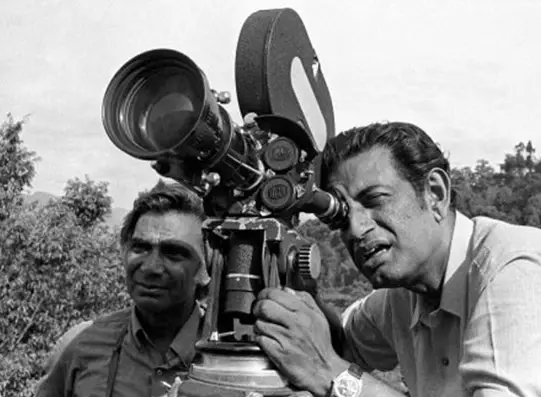 This Bengali filmmaker is the only Indian to receive the Honorary Award for life time achievement at 64th Academy Award in 1992. Audrey Hepburn, one of the most favorite actresses of Satyajit Ray presented the academy that day. Sadly Satyajit Ray was not able to attend academy awards due to his illness, but he gave his acceptance speech directly live from the hospital bed. Ray received this award for his contribution to world in the field of art.
...
2. Bhanu Athaiya Born on April 28, 1929, in Kolhapur, Maharashtra, >> Read More... :
She is the first Indian to receive an Academy Award. In 1983 at the 55th Academy Award Bhanu Athaiya was nominated and won the Academy Award for the best costume design. She received this award for designing the costume for a superhit and critically acclaimed movie, Gandhi. She shared this award with John Mollo.
...
3. Ravi Shankar:
...
At the 55th Academy Awards, Bhanu Athaiya wasn't the only Indian to be nominated. Ravi Shankar, often preceded by the title Pandit was a phenomenal Indian musician and composer who got nominated that year for best music, original score. Though he was not able to win the award, sill his work was recognized and appreciated. He lost the award to John William.
4. Mehboob Khan Mehboob Khan was a pioneer producer-director of Hi >> Read More... :
...
Mehboob Khan became the first Indian to get nominated. In 1958 at the 30th Academy Award, it was the first time an Indian movie got nominated for Academy Award. Mother India became the first movie to be internationally recognized and to be nominated for the best foreign-language movie at 30th Academy Award, directed by Mehboob Khan.
5. AR Rahman:
...
AR Rahman has been nominated not only once but twice, both times for two categories. First time Rahman was nominated in 2009 at 81st Academy award for best original score and best song, he won both the awards. This award was result of his remarkable music in the movie ' Slumdog Millionaire Click to look into! >> Read More... '. Second time he was nominated for best original song and best original score for the movie '127 hours' at the 83rd Academy Award in 2011. Unfortunately, Rahman was not able to win in any of the categories yet was appreciated for his work.
...
6. Gulzar:
...
Sampooran Singh Kalra became famous by his pen name Gulzar. Rahman was not the only mastermind behind the academy winning song ' Jai Ho Click to look into! >> Read More... ' contribution of incredible lyricist Gulzar was also remarkable. Gulzar shared his award for best original song with AR Rahman at the 81st Academy Award in 2009.
7. Resul Pookutty Resul Pookutty has climbed up the ladder with a lo >> Read More... :
2009 was a amazing year for India at the 81st Academy award as there were three Indians to get nominated and winning all the awards. He won the award for best sound mixing for movie 'slumdog millionaire' at the 83ad Academy Award.
8. Dev Patel Dev Patel is a British actor, who saw his first gl >> Read More... :
This New Year started with good news of Dev Patel to be nominated for best supporting actor for movie 'Lion.' Though Dev was not able to win still, he was honored by nominating. Though he was a part of the movie 'Slumdog Millionaire,' a movie which won lots of awards in 81st Academy Award in different categories, still this was the first time Dev Patel was nominated.
9. Bombay Jayashree:
She is a Carnatic music vocalist and composer, at the 85th Academy Award Bombay Jayshree was the only Indian nominee. She was nominated for the category of best original song for the song "Kanne Kannmaniye" form 'life of pie.' She lost the Academy Award for best song to Adele.
10. Ashutosh Gowarikar:
In 2002 at the 74th Academy Award, Ashutosh Gowarikar's movie 'Lagan' was nominated for the best foreign-language film. Lagan was a legendary sports-drama Indian film, written and directed by Ashutosh Gowarikar. Lagan received international recognition and nomination in Academy award but was not able to win.