Marathi TV shows are one part of Indian culture that has not been influenced as much by Western influences but still have gained widespread attention in India and internationally. Marathi television shows have consistently set standards and have been a favorite among viewers all over India, and with good reason. The actress who performs the lead role in this TV show also put their elegance and mesmerize everyone with their glam and acting skills which is why they become the center of attraction for everyone.
Rutuja is a famous TV show actress, but she even has performed her debut in the film industry through the movie Shaheed Bhai Kotwal and, after that, has been part of Respect. She has been appearing in several Marathi serials and films for over 15 years. In 2008, she appeared on the screen for the first time through the TV show Hya Gojirwanya Gharat as a supporting actress. But later, she got her 1st lead role in Tu Majha Saangaati Story Soon >> Read More... .
...
Amruta is another famous personality who got recognition after her supporting role of Vaidehi Saranjame from the serial Asmita on the Zee Marathi channel. Apart from this, she also has been part of other TV serials like Freshers, Tumcha Aamcha Same Asta, Mi Tujhich Re Story soon >> Read More... , and Deva Shappath. She also participated in a famous Marathi reality show named Bigg Boss Marathi season 4.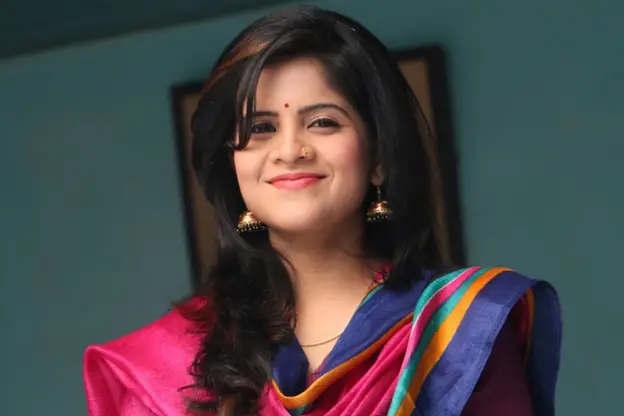 Rupali Bhosale is a Marathi TV and film actress who has been part of many TV shows in Hindi and Marathi languages. Few of them are Shejari Shejari Pakke Shejari, Aai Kuthe Kay Karte, Zaban Sambhal Ke Story Coming Soon.. >> Read More... , Badi Doooor Se Aaye Hai and Tenali Rama Tenali Rama was a 1990 Hindi TV series aired in Do >> Read More... . In addition to acting on TV, Bhosale has also performed the critically acclaimed role in multiple Marathi language films like Chaandi, Bandya ani Baby, Aajoba Vayat Aale, Mukkti, and Risk.
...
4. Tejasree Pradan
Tejashri Pradhan Tejashri Pradhan was born on 2nd June 1988 in Mumb >> Read More... is a Marathi television and cinema actress who has acted in many serials. She began her career in acting after being part of a TV serial named Hya Gojirvanya Gharat Hya Gojirvanya Gharat is a Marathi drama serial th >> Read More... in 2007. She has till now appeared in 11 TV serials, among which she got special appearances for which she is still recognized are Honar Sun Me Hya Gharchi, Aggabai Sasubai Aggabai Sasubai is a Marathi TV serial directed by >> Read More... , Sur Nava Dhyas Nava, and Prem He Prem He is a romance drama. The show premiered in >> Read More... .
...
She is well-known for playing the lead role of Sai in Majha Hoshil Na Majha Hoshil Na is a Marathi serial aired on Zee M >> Read More... ; apart from this, she has also worked in Saare Tujhyachsathi Saare Tujhyachsathi is a Marathi romance drama TV >> Read More... as Shruti, and both TV serials were aired on the Zee Marathi TV channel. She is so dedicated and creative in her acting role such she has even won 2 awards from Zee Marathi in the form of best actress and best couple categories.
...
Neha Joshi is an Indian Film and TV show actress, but she has appeared in films four times more than her career as a TV actress. She has been in 6 TV shows in the form of a lead role or supporting role. A few of her popular recognized TV shows include Avaghachi Sansar Sanyogita Bhosale, Ka Re Durava Ka Re Durva is about accomplishing the bigger drea >> Read More... , Jyotiba Aani Savitribai Phule, and Doosri Maa Story coming soon... >> Read More... (Hindi TV series).
...
Suruchi Adarkar is a Marathi television serials actress. She has been acting for a long time in the TV industry of Maharashtra, and she achieved her most significant breakthrough in 2014 when she was cast as the lead character, "Aditi Khanolkar," in the popular soap opera "Ka Re Durava." Suruchi is best known for her other diversified serial acting shows, which include the recent Anjali - Zhep Swapnanchi, Ek Ghar Mantarlela Ek Ghar Mantarlela is a Marathi supernatural suspe >> Read More... , and Woh Toh Hai Albelaa.
...
Sayali Sanjeev Chandsarkar, also recognized as Sayali Sanjeev, is a leading TV soap actress from Marathi TV shows popularly. She has played the role of a leading actress and a supporting role in multiple shows and the film industry. The serials which made her brand image in the entertainment world were Kahe Diya Pardes Kahe Diya Pardes is a bilingual serial airing on z >> Read More... and Perfect Pati. Whereas movies enlisted her in the film industry are Satarcha Salman and Aatpadi Nights.
...
Hruta Durgule is a film and television actress from Maharashtra. Especially renowned for portraying central characters on Marathi television shows. She was ranked 1st by the Times of India for the Top 15 most desirable women from Marathi television in 2018 and 2nd in 2020. Her best-renowned TV shows are Man Udu Udu Zhala and Phulpakharu.
Urmila Kothare is among the current era leading actress from the entertainment industry, predominantly in Marathi. She has experience in movies as she has been part of around 20 films since her 2006 debut in Shubha Mangal Saavadhan (Marathi). Apart from her filmy image, she has contributed to TV serials like Aata Hou De Dhingana, Sukh Mhanje Nakki Kay Asta, and Tuzech Mi Geet Gaat Aahe in recent years.