Many talented Marathi singers have contributed immensely to our state's musical heritage. These singers have deeply moved and touched the hearts of listeners with their melodious voices and have entertained them through their unique compositions. They also made a significant contribution to society in the Maharashtra region through their songs. They are legends in every sense of music in the state and country and deserve recognition and appreciation for their contribution to the community. So let us check out the legends in the Marathi musical Industry.
Sonu Nigam is a renowned Indian singer and actor. His numerous awards include the prestigious Padma Shri award in 2022 for his contribution to Indian music. He has sung songs for more than 7 Marathi movies and won the National Award in 2005 for Best Male Playback Singer. His best Marathi songs include Jeev Bhulala, Man Majhe, Tik Tik Vajate Dokyaat, and Makhmali.
...
Asha Bhosle is a famous Indian singer with a career spanning decades. Her rich voice and distinctive singing style have made her one of the most recorded artists in the world, with over 12000 songs in 20 Indian and foreign languages to her credit. Here are some lesser-known facts about this renowned singer: she was awarded India's second highest civilian honor Padma Vibhushan for her contribution to Indian cinema and music in 2008.
Avadhoot Gupte is one of the most famous Marathi singers in the world. Hailing from Sangli, Maharashtra, he has been a singer for over 30 years and has made appearances all over India and internationally. Gupte specializes in singing devotional religious songs in a traditional style. He is considered one of the top 10 most popular Bollywood playback singers since 2005.
...
Ajay Gogavale is a well-known Marathi singer. He has sung for many movies and TV shows, including the famous Marathi film Sairat along with his brother Atul Gogavale Atul Gogavale, along with his brother Ajay Gogaval >> Read More... . He has been singing for 17 years and has released a total of 13 albums. Ajay sings in both English and Marathi, but most of his songs are in Marathi because he is from Maharashtra.
...
5. Atul Gogavale
Atul Gogavale is a very famous Marathi singer. His music career is recognized throughout the country for his song and his brother Ajay for Zingaat. He has sung many songs released on albums, such as Abhi Mujh Mein Kahin, Chandra, Chikni Chameli, and O Saiyyan. He has also sung for many Marathi films, including Apsara Aali Dancing denotes a happy soul and mind. It is a way >> Read More... from Natarang, Vaat Disu De from Jau Dya Na Balasaheb, and many more.
...
6. Hariharan
Hariharan is an Indian playback singer who sings predominantly in Marathi, Tamil, Malayalam, and Kannada. The son of the Carnatic vocalist H.A.S. Mani, Hariharan was born in Chennai and had his early musical training under his father's guidance. His fan's favorite hits include Jeev Rangla, Jiv Tutato, Ye Na Mithit Mazya, and Aga Pawna Ye Aata.
...
Shankar Mahadevan is a renowned Indian singer and composer awarded Padma Shri, India's fourth highest civilian award, in 2009. Besides singing, Mahadevan is also an instrumentalist who plays the keyboard or synthesizer and has contributed to many other renditions of his compositions by other singers. He is best known for his nonstop (1 breath song ) named Breathless.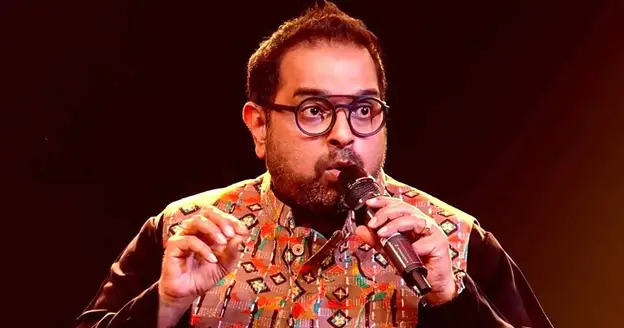 ...
8. Kaushal S. Inamdar
Kaushal Inamdar Kaushal Inamdar was born on October 2 in the year >> Read More... is a contemporary playback singer who sings in the Marathi language and other Indian languages like Hindi and Bengali. Some of his famous songs include Bolato Marathi, Nakalat Vinale Jate Jale, Mazya Marathi Maticha, and Jahalo Dhanya. He also has a few top-level awards in the singing world in India, like the Ashwamedh, Indradhanu, and Kalagaurav awards.
...
Aarya Ambekar is a singer-songwriter and composer in the contemporary Marathi music industry. She has sung multiple chart-topping songs and has been part of different films in the Marathi and Hindi film industries. Apart from this, she has sung for top TV shows. And she even played a lead role in a Marathi movie named Ti Saddhya Kay Karte.
Mumbai-based singer and music composer Bela Shende is one of the most famous and talented singers in the Marathi film industry. She has also once been the topper of Spotify's Marathi leading songs list. A few of her audience's favorite songs include Jeevlaga, Raati Ardhya Raati, Mazaya Manna, Gandh Halke Halke, and Hrudayamadhle Gaane.