The Marathi film industry produces a variety of movies in different genres, such as crime, drama, comedy, horror, action, etc. With the blockbusters, horror movies have separate substantial fan bases; while thinking of these movies, one's mind can go through unusual creatures, scary bats and cats around, doors creaking sound and silent-looking housekeepers, but the Marathi film industry always delivers some different, which makes you fearful and silent also to think overnight about spirits and curses.
1. Zapatlela
Zapatlela is an Indian Marathi Horror movie released in 1993. Mahesh Kothare Mahesh Kothare is a yesteryear Marathi and Hindi a >> Read More... directed this movie, and it frightened us despite its similarities in story with the Hollywood film Child's Play. The movie moves around a gangster who switches his soul to a doll through mantras to fulfill his evil purposes. Gauri, who returned from the USA, gifts this doll to Lakshya, and the spirit is switched between them. It was also entertaining, besides the horror plot. The idea and feature of a possessed doll made the film successful to another level.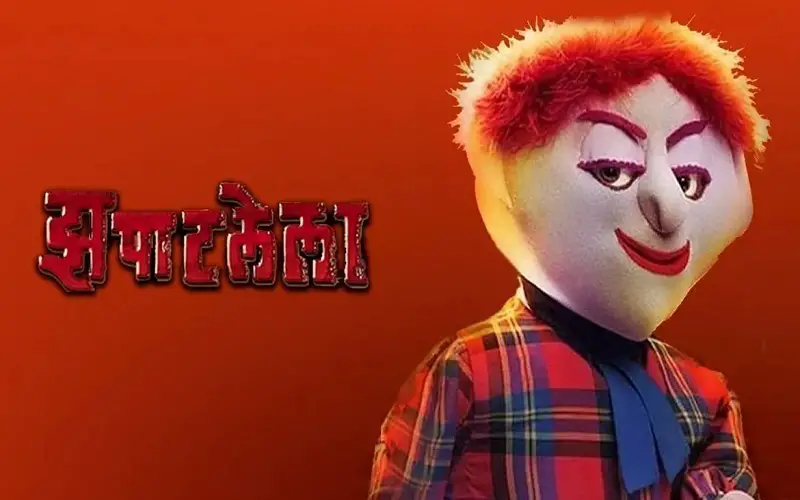 ...
2. Kanika
Kanika is a revenge-horror-type movie directed by Pushkar Manohar Pushkar Manohar is a director, producer, and write >> Read More... . It released on the 31st of March 2017. The story was pretty interesting; that revolves around a doctor and his colleagues who use their knowledge of sex-determination testing in an unethical way, they commit a crime, and then find some paranormal mess with themselves. The situation slips from the hands and starts killing crime partners. The doctor confesses his crime and becomes helpless as other refuses to stand with him.
3. Lapachhapi
Lapachhapi is a Marathi horror movie of the year 2016. This is the most popular horror and thriller movie in the Marathi language. Its title Lapachhapi refers to the game of Hide & Seek. The story of this movie revolves around a pregnant girl Neha. To escape debtors, she travels to her village, which is in a remote area, along with her husband. Their house is between a tangle of sugarcane fields, which frightens the Neha a little. Gradually, she experienced a few activities that make her believe that a hell-bent spirit had something on her baby. The Hindi remake of this story is titled Chhori, starring Nushrratt Bharuccha as a leading actress.
...
4. Zombivli
Zombivli is a horror-comedy movie directed by Aditya Sarpotdar Aditya Sarpotdar is an Indian film director well k >> Read More... released on the 26th of January, 2022. It is a zombie movie, the first horror movie based on zombies in the Marathi language. This story plot is about an epidemic due to a destructive and life-threatening virus, which spreads in the Dombivli region of Mumbai city. This virus causes the transformation of humans into Zombies. It is one of the best Zombie movies, based in India, which is not just horror but a good combination with comedy timing. Its lead cast includes , Amey Wagh Amey Wagh was born on November 13, 1987 and he is >> Read More... , and Vaidehi Parashurami Vaidehi Parashurami is an Indian Model and Actress >> Read More... .
...
5. Bali
Bali is a supernatural and horror Marathi movie made by the director of Lapachhapi Vishal Furia, released in 2021. This story revolves around a widowed father who has a seven-year-old son. His son collapses and gets admitted to the hospital, where he meets a mysterious nurse who claims to be alive in the closed area of the hospital. This movie gives precise horror feel that should not be missed by one. The movies star cast includes Pritam kagne, Rohit Kokate Rohit Kokate is known for several films such as Ni >> Read More... , Sanjay Ranadive, Shraddha Kaul, Abhishek Bachankar Bio coming soon... >> Read More... , Mahesh Bodas, Umesh Ghalsasi, Swwapnil Joshi, Pooja Sawant Pooja Sawant is a Malayali actress. She has mainly >> Read More... , and Samarth Jadhav.
...
6. Pachhadlela
Pachhadlela is a Marathi horror comedy movie. Pachhadlela means possessed. It is the tale of three friends who work together in the same bank. They all get transferred to a village that is in a remote place. They boarded at an old, which is supposed to be a haunted mansion. One of the three friends believes so much in these kinds of stuff like possession and paranormal activities, gets possessed, and chaos results. The movie was released in 2004 and was directed by Mahesh Kothare, starring Shreyas Talpade Those who follow Bollywood movies are accustomed t >> Read More... , Bharat Jadhav Bharat Jadhav is a well-known comedian and a film >> Read More... , Dilip Prabhawalkar, and Abhiram Bhadkamkar Abhiram Bhadkamkar is a bundle of talent, which bl >> Read More... in the lead role.
...
7. Goa 350 KM
Goa 350km is a horror movie directed by Amol Pavade and released in the year 2015. The story conveys about a newly married couple who went to Goa by road for the honeymoon; while travelling on the highway at night. They become the bait of a woman ghost and murdered that way. She kidnaps the bride and asks the groom to find the person who killed him. The story gives a natural scary feel that will make you bite your nails. The stars are Vikas Bangar Vikas Bangar is an Actor who comes from a Marathi >> Read More... , Namrata Bhondave, Madhuri desai.
...
Ek Ghar Mantarlela is a horror, suspense, drama, and thriller movie. The movie released in the year 2019. It is starring Suhrud Wardekar Suhrud Wardeka is a television artist who works mo >> Read More... , Suruchi Adarkar Suruchi Adarkar was born on 25th April 1988. She i >> Read More... , and Suyash Tilak Bio coming soon... >> Read More... . Gargee is a fearless young television reporter, and she accepts the challenge to enter a haunted house. She begins watching a sinister illusion series. It will be fun and a little scary to watch her solving the mystery of the haunted house, or will she get trapped in the haunted house forever?
...
9. Sa Sasucha
This Marathi movie is based on superstition and is a horror movie. A modern-thinking businessman named Karthik and his wife Ashwini believe in Vaastu Shastra and are superstitious. They cannot conceive a child and face their father's anger. An astrologer tells them to demolish their old house. Meanwhile, there was a picture of Karthik's mother, as she died right after giving birth to Karthik. Karthik and his father have a great attachment to the painting, and memories in their old house. On the other hand, Ashwini goes through paranormal activities and later decides to find the truth.
10. Gumnaam Ek Thriller Night
Gumnaam Ek Thriller Night is a Marathi thriller, horror, and suspense movie directed by Ketan Pendse. Its casting includes Ashmit Patel Ashmit Patel is an Indian film actor and director >> Read More... , Khushbu Tawade, , Elena Kazan This Moscow-born Elena always wanted to be a Bolly >> Read More... , Anushree, Anushree Dham, and Niranjan Kulkarni Bio coming soon... >> Read More... . This story revolves around Ketan and Anu. They went to a haunted jungle with their friends and got lost in it. They meet a guy named Mahesh, who comes to find his brother in the wilderness. Together, they began to find their brother and lost friends, and came to know that all their friends died due to a dairy. Will they find Mahesh's brother, or will they be able to solve the mystery?