In India, we have a lot of different cultures living under the same roof, just like we have different kinds of Film Industries. In total, we have 26 film industries in India, and Bhojpuri Film Industries is one of them, which makes movies in the Bhojpuri language. People of Uttar Pradesh, Bihar, and even native speakers living in foreign countries like the USA, Mauritius, South Africa, and many more should watch Bhojpuri Movies. This Industry has seen rapid growth in recent years, worth almost Rs 2000 crore. Let's see the top 10 action movies of the Bhojpuri industry that are worth watching.
1. Jai Hind
This one is the highest-rated action movie in the Bhojpuri Industry, released in 2019 under the direction of Firoz Khan Bio coming soon... >> Read More... . This Pawan Singh Pawan Singh is an actor and singer in Bhojpuri fil >> Read More... and Madhu Sharma Madhu Sharma is an Indian film actress, known for >> Read More... starrer movie is Popular for its powerful dialogues and mind-blowing songs. Whoever loves cross-border love stories will like this movie.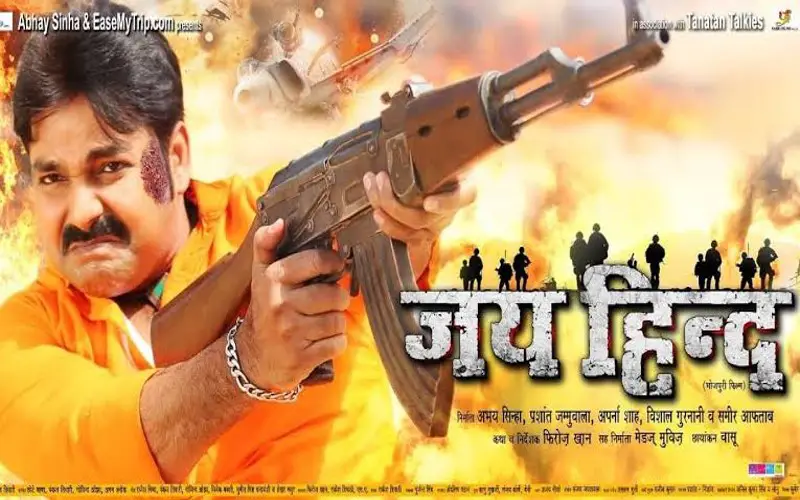 2. Crack Fighter
Directed by Sujeet Kumar Singh, this was a big blockbuster 2019 film. The cast includes popular and admiring film stars like Pawan Singh, Nidhi Jha Nidhi Jha has been a part of a number of ventures >> Read More... , and Pradeep Singh Rawat. It portrays the story of a man who moves to a city to marry his dream girl but later ends up saving that city from mass destruction, planned by a gangster.
3. Sher Singh
Written by Veeru Thakur The Bhojpuri film industry is where Veeru Thakur w >> Read More... and directed by Shashank Rai Shashank Rai is a producer from Mumbai, Maharashtr >> Read More... , it was a 2018 action motion picture that was a blockbuster. It includes Singham's Ashok Samarth Ashok Samarth is an Indian film actor, popular amo >> Read More... , Pawan Singh, and Youtube queen Amrapali Dubey Amrapali Dubey has been working as a small screen >> Read More... . Sambhavana Seth in a bold avatar and electrifying music, made the audience crazy.
...
4. Sangharsh
It is one of the biggest hits in 2018 under the Direction of . It delivers the critical message of Women's Empowerment. The action takes place between two men who had conflicting perspectives over the idea of women as proliferating. It consists of stars like Khesari Lal Yadav From getting thrown out by his father for stealing >> Read More... , Kajal Raghwani Kajal Raghwani is a 30-years-old Bhojpuri actress. >> Read More... , and Awadhesh Mishra Born on August 5, 1969, in Sitamardhi, Bihar, Awad >> Read More... , which made it even more popular with its strong morals.
...
5. Damru
Directed by Rajnish Mishra Rajnish Mishra was born on 3rd November 1979 in Na >> Read More... , this is a 2018 film. The story is about a man who is spiritually devoted to Lord Shiva. But he struggles with so many issues in life, so Lord Shiva comes on earth to help him and protect humanity. Casts include Khesari Lal Yadav, Yashika Kapoor Bio coming soon... >> Read More... , and Awadhesh Mishra. If you are someone, who believes in God without selfish reasons then you should watch this film.
...
6. Patna Se Pakistan
Nirahua, aka Dinesh Lal Yadav Dinesh Lal Yadav Nirahua is a popular Bhojpuri sin >> Read More... and Amrapali Dupey Starrer, is a 2015 movie that was directed by Santosh Mishra Santosh Mishra is a well-known Indian director, mu >> Read More... . This movie is about Kabir, who has lost his family in a terrorist attack and later takes revenge on those terrorists by crossing the border.
...
7. Dabang Sarkar
This one is a 2018 movie that portrays the story of a son who takes revenge for his father's murder by becoming a police officer. Veeru's father was murdered by the people of the pharmaceutical factory where he used to work. This Father-Son duo character was played by Khesari Lal Yadav along with Akanksha Awasthi Akanksha Awasthi is a popular Hindi TV actress and >> Read More... and C.P. Bhatt.
...
8. Dharti Kahe Pukar Ke
This is a kind of vintage film that was released in 2006 and was a blockbuster in its time. It became popular because of its amazing star cast, including Manoj Tiwari An incumbent Bhojpuri superstar, Manoj Tiwari was >> Read More... , Drishyam actor Ajay Devgan Ajay Devgn is an Indian film actor. He is perhaps >> Read More... , and Sharbani Mukherjee Sharbani Mukherjee (Born: 1984) is a well-known Bo >> Read More... . This is the story of a young IPS who surrenders himself for the crime his friends have committed but later faces a dilemma when he learns that his village is in danger.
...
9. Pratigya-2
With tones of popular stars like Pawan Singh, Khesari Lal Yadav, and Sushil Singh Sushil Singh is a renowned and talented actor who >> Read More... , this is another blockbuster of 2014 directed by Sushil Kumar Upadhyay Sushil Kumar Upadhyay is a famous director. He has >> Read More... , and people still love watching it to entertain them. This movie celebrates the reunion of three separated brothers, who later take revenge against the real culprits.
10. Saat Saheliya
This is a 2010 blockbuster movie because of its electrifying songs and large star cast. Seven famous Bhojpuri actresses like Monalisa, Rani Chatterjee Rani Chatterjee, a Bhojpuri movie star, is an Indi >> Read More... , and many more, along with only actor Dinesh Lal Yadav aka Nirahua, are part of this movie in which these seven young ladies provoke the hero to put an end to the atrocities of Kunwar and Raja Saheb.