Rapper and vocalist Aditya Prateek Singh Sisodia is better known by his stage name Badshah. Badshah and Yo Yo Honey Singh worked together on a single in 2006 to help establish his career as a rapper. Badshah's incredible soundtracks have greatly assisted in his rise to fame. You may always hear "DJ Waley Babu," his most well-known tune, being played at concerts or nightclubs. Formerly the king of Punjabi music, Badshah now rules Bollywood. In case you aren't listening to music regularly enough, here is a list of 10 insanely awesome Badshah songs that you must have on your party playlist.
1. Genda Phool
The song's author and composer is Badshah. Bengali lyricist Ratan Kahar and singer Badshah focused the lyrics of the song on the Hindu festival of Durga Puja. Karan Johar, a friend of Badshah and a music producer, announced the song on his social media page. In the song's music video, Badshah and Sri Lankan actress Jacqueline Fernandez Jacqueline Fernandez is one of the top actresses i >> Read More... may be seen.
...
2. Abhi Toh Party Shuru Hui Hai
This song is another one of Badshah's party favorites. In the movie "Khoobsurat," Fawad Khan and Sonam Kapoor dance to the music of Badshah. Thanks to its seductive lyrics and engaging musical arrangement, this song has become a mainstay on young people's party playlists.
3. DJ Wale Babu
On July 16, Sony Music India released "DJ Waley Babu," a Punjabi-Hindi hip-hop single by Badshah featuring Natasa Stankovic Natasa is a model turned actress, who also tried h >> Read More... . Badshah and Aastha Gill Aastha Gill is a young talented playback Singer. S >> Read More... perform the vocals on the song. The lead track from Badshah's album "The ONE" is this one (Original Never Ends). On July 16, 2015, Sony Music India made the song available on YouTube and other music streaming platforms.
...
4. Chandigarh Mein
The vocalists for the song are Badshah, Harrdy Sandhu, Lisa Mishra Lisa Mishra is an Indian-American playback singer. >> Read More... , and Asees Kaur Asees Kaur is an Indian Playback Singer. She works >> Read More... . Chandigarh Mein's lyrics were written by Tanishk Bagchi Tanishk Bagchi is an Indian music composer and sin >> Read More... , who also directed the creation and composition of the song. Chandigarh served as the location for the filming of the song, which is from the Hindi movie Good Newwz Click to look into! >> Read More... , starring Kareena Kapoor Khan Kareena Kapoor is a super hit actress working in I >> Read More... , , Kiara Advani She is an Indian film star born on 31st July, 1992 >> Read More... , and Diljit Dosanjh Diljit Dosanjh, born on 6 January 1984, in Jalandh >> Read More... .
...
5. Paagal
Fans are clapping along to Badshah's most recent party song, which he dropped just in time for the weekend of July 10, 2019. Playboy magazine model Rose Romero dresses up the well-known clip. He broke the previous record for the most YouTube views in a day with his 2019 song "Paagal," which earned 74.8 million views in a single day. Due to his lack of likes in the first 24 hours, BTS fans claimed that the artist had purchased the views to break the global record. However, neither YouTube nor the artist have verified the veracity of the views. Additionally, the song was not among the top 100 global music videos for the week. Even though Badshah said they weren't fake, Sony Music India, his record company, purchased paid advertisements.
...
6. Kala Chashma
Among the musicians who contributed to the soundtrack are Arko, Amaal Mallik Amaal Malik (D.O.B- 16 June 1991) is a music compo >> Read More... , Badshah, Jasleen Royal Jasleen Royal is a famous Indian singer, songwrite >> Read More... , Bilal Saeed Bilal Saeed also known as Mohammed Bilal Saeed was >> Read More... , and Prem Hardeep. On July 27, 2016, the first track, "Kala Chashma," became available. Sidharth Malhotra Sidharth Malhotra is an Indian actor who was born >> Read More... and Katrina Kaif's film Baar Baar Dekho Click to look into! >> Read More... had a successful opening weekend at the box office, but its song Kala Chashma has been a hit ever since. In the 1990s, the song was initially made available in Punjabi. According to a report in the Hindustan Times, Amrik Singh Shera, a chief constable with the Punjab police in Kapurthala, is reportedly one of the song's creators.
...
7. The Breakup Song
"The Breakup Song" is featured in the Bollywood film Ae Dil Hain Mushkil, which stars Ranbir Kapoor Ranbir Kapoor is a noted Indian film actor. He was >> Read More... and Anushka Sharma Born in an army family to Col. Ajay Kumar and Ashi >> Read More... (2016). The film's principal themes focus on unrequited love, friendship, loss, and the resulting suffering. The lyrical structure of "The Breakup Song" was peculiar compared to other songs Badshah has previously released. The "Breakup Song" from Ae Dil Hai Muskil was instantly recognized as Badshah's song. "The Breakup Song" is sung by four singers, including Badshah, Arijit Singh Most famous for his songs in Aashiqui 2, Arijit Si >> Read More... , Jonita Gandhi Jonita Gandhi is an exceptionally talented singer >> Read More... , and Nakash Aziz Nakash Aziz, is an Indian playback singer and mus >> Read More... .
...
8. She Move It Like
The track "She Move It Like" comes from the album ONE by Badshah. The song, which was released by Sony Music India on December 10, includes Warina Hussain Warina Hussain is also called Wari, born on 23rd F >> Read More... as a featured artist. When it was first released, the song was hugely successful. 11 million people saw the music video in a single day. Currently, the "She Move It Like" video had amassed over 500 million views on YouTube.
...
9. Garmi
Badshah composed and orchestrated this energetic song, with vocals by Neha Kakkar Neha Kakkar is a prominent Indian comedian and pla >> Read More... . Prabhu Deva Story soon >> Read More... , Varun Dhawan Varun Dhawan, a new comer entered Bollywood with h >> Read More... , Shraddha Kapoor Shraddha Kapoor, born on March 3rd, 1989, is a you >> Read More... , and Nora Fatehi Nora Fatehi is yet another foreigner to get a brea >> Read More... are the main actors in the Divya Khosla Kumar She is a wife, a mother and now a film director. E >> Read More... , Krishan Kumar Bio coming soon... >> Read More... , Bhushan Kumar Bhushan Kumar was born on 27 November in 1977 in D >> Read More... , and Lizelle D'Souza-produced movie "Street Dancer 3D." It is under Remo D'Souza's direction. The song was made available on the official T-Series YouTube account, which has received more than 335 million views.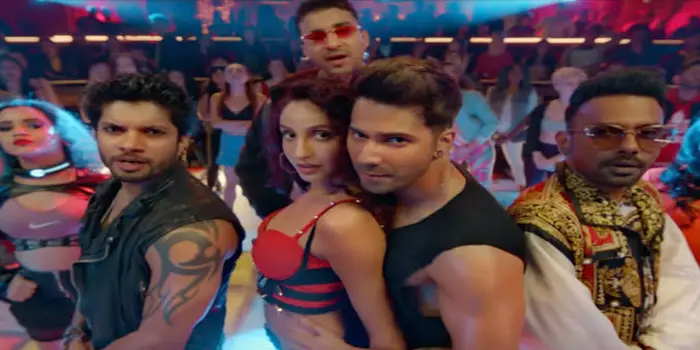 10. Wakhra Swag
"Wakhra Swag" by Badshah was his top-charting song of 2016. For this Punjabi song, rapper Badshah gained multiple accolades and excellent reviews, and in 2016, he also won the GIMA Award for Breakthrough Artist for the same. "Wakhra Swag," which won the Punjabi Music Award, was named Best Music Director for a Single Category. The song was sung by Navv Inder Bio coming soon... >> Read More... and Badshah jointly. 333 million people have currently viewed the song "Wakhra Swag" video on the Times Music YouTube channel.