No matter where you come from in India, you can always get a good laugh by watching Punjabi Movies. And ever since the pandemic, it has been a long time since cinemas got filled with people having the time of their lives.  Punjabi movies have always been a source of delight and utmost entertainment. And just like a surge of movies released in 2021, 2022 is also packed with some power-packed pieces.  Many movies got delayed at the beginning of the year. However, now you have a whole new bunch of movies to choose from for your movie night.  Here's the list of Top 10 Punjabi Movies to watch in 2022.
1. Jodi
One of the most awaited movies, directed by Amberdeep Singh, was released in April 2022. It's a simple yet enjoyable love story of Kapil and Kanchana with many moments that will keep you hooked to the screen. It's a great movie to watch with your family and friends, filled with relatable characters to give you a fun time.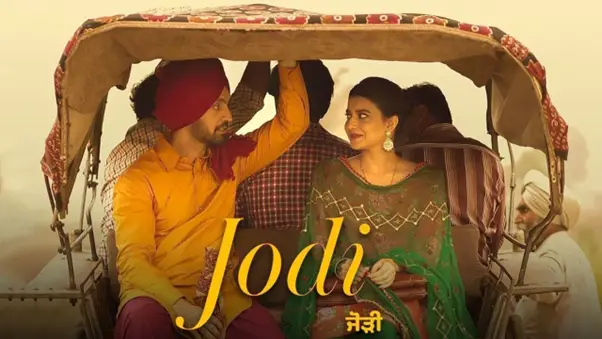 ...
2. Jattan Da Munda Gaun Lagya 
All the Sidhu Mossewala fans waited for this one for a long time. The movie got released in March 2022. It was written and directed by Amberdeep Singh. It is his third movie after Yes I am Student and Moosa Jatt. And it will be Sidhu and Amberdeep's first project ever together.
3. Shareek 2
Directed by Navaniat Singh Navaniat Singh is an Indian director who is known >> Read More... , this movie revolves around revenge and honor. It will keep your eyes glued to the screen with its compelling script and characters. Jimmy, Dev, and Sharan Kaur Sharan Kaur made her debut in the television world >> Read More... have done complete justice to their roles. It has an amazing soundtrack that makes the movie even more worth watching.
...
4. Sher Bagga
Jagdeep Sidhu Jagdeep Sidhu was born on January 2, 1988, in the >> Read More... directed this movie. It is an excellent example of pure love in the modern era. It's a great addition to the Punjabi Cinema with its new point of view and gripping script. The main characters, Dilsher and Gulab, will make you blush with their shy moments and be happy with the profound ending.
...
5. Maa 
Directed by , the movie features Gippy Grewal Gippy Grewal is an actor and singer in the Indian >> Read More... , Rana Ranbir Rana Ranbir is a Punjabi actor, comedian, host and >> Read More... , and Aarushi Sharma Bio coming soon... >> Read More... in the lead roles. It got released in May 2022. The story is emotional and will fill your hearts to the brim, with a little love story woven along the way. The soundtrack does justice to the tone of the movie. This movie will make you finish all the boxes of tissue you have.
...
6. Main Viyah Nahi Karoon Tere Naal
Rupinder Inderjit Rupinder Inderjit is a writer for both movies and >> Read More... directed this movie. The actors in lead roles are Gurnan Bhullar, Sonam Bajwa Sonam Bajwa is an Indian actress - model by profes >> Read More... , Rupinder Rupi Rupinder Rupi is a Punjabi actress and radio jocke >> Read More... , and Sukhwinder. It got released in March 2022. The love story, brought to life with a great script and punch lines, is a must-watch with your partner over the weekend.
...
7. Main Te Bapu
Uday Pratap Singh Uday Pratap Singh is an actor. Uday Pratap Singh h >> Read More... directed this movie. The lead actors are Parmish Verma Parmish Verma is an Indian Playback Singer, Actor, >> Read More... , Satish Verma Bio coming soon... >> Read More... , Sanjeeda Ali Sheikh, and Sunita Dhir Sunita Dhir is an Indian Actress, who primarily wo >> Read More... . Pick this movie if you want to spend a great family time with loads of laughter and entertainment. The soundtrack is soothing and dramatically highlights the emotions depicted in the film.
...
8. Lekh
An innocent love story directed by Manvir Brar featuring Tania, Gurnam Bhullar Gurnam Bhullar is an Indian artist, actor, and son >> Read More... , and Nirmal Rashi in the leading roles. The movie is written by Jagdeep Sidhu, perfectly capturing the essence of a sweet and innocent bond of love, separation, reconciliation, and moving on. The soundtrack will touch your heart as much as the story and will leave you feeling connected to the core.
...
9. Aaaja Mexico Challiye 
Rakesh Dhawan Bio coming soon... >> Read More... directed the movie. The lead actors are Ammy Virk Ammy Virk is a talented singer, actor, and produce >> Read More... , , Zafri Khan Zafri Khan is a noted Pakistani stage actor. He ha >> Read More... , and Baljinder Kaur Baljinder Kaur, a teacher by profession in a Drama >> Read More... in the lead roles. It's a compelling cinematic experience to watch. The soundtrack is perfectly apt for the emotions shown in the movie. The acting is excellent in the film. It is a must-watch for those still finding their identity.
10. Sohreyan Da Pind Aa Gaya
Directed by Ksshitij Chaudhary Ksshitij Chaudhary is an Indian film director who >> Read More... , this movie features Gurnam Bhullar, Sargun Mehta Sargun Mehta is an Indian model, comedian, actress >> Read More... , Jasmin Bajwa Jasmine Bajwa was born on 26th September 1996 in L >> Read More... , and Jass Bajwa Jass Bajwa was also known by his real name Jaspree >> Read More... in the lead roles. The script is a perfect blend of love and revenge. The movie is an entertaining piece for its viewers, set in the 90s.