"Netflix and chill" are the new way to relax on weekends. And weekends can be dull and awful when you have not decided which is more fun to watch. So, if you are that person who loves something comedy, drama, thriller and romantic also? Then yes, Pollywood (Punjabi) Movies are the best to watch. So, here is a list of some best Pollywood films you must watch. These movies are way more entertaining. So, sit back and take your food and relax.
These are some of the best 10 Pollywood movies on Netflix. Here are some of the best Pollywood actors like Diljit Dosanjh Diljit Dosanjh, born on 6 January 1984, in Jalandh >> Read More... , Rana Ranbir Rana Ranbir is a Punjabi actor, comedian, host and >> Read More... , and many more.
1. Soorma
It is a very motivational story. It's a sport-based story. This film is a true story of legendary hockey player Sandeep Singh Sandeep Singh is an Indian hockey player and has e >> Read More... who recovers from a near-death experience. It is the story of a young boy Sandeep Singh who came from a small village and always has a dream about being part of an Indian hockey team. And in this film, Taapseee Pannu plays the role of Harpreet. Starring Diljit Dosanjh and Taapseee Pannu as the main leads in this movie.
...
2. Qismat
This film has inspired by the true love story of Jagdeep Sidhu Jagdeep Sidhu was born on January 2, 1988, in the >> Read More... , who is the director of this movie. It is the story of a Punjabi guy whose name is Shivjit. After failing thrice, Shivjit tries to convince his parents once he reaches Chandigarh, he will surely pass the exam. But there, he falls in love with a beautiful girl Bani. But in the end, things changed. Ammy Virk Ammy Virk is a talented singer, actor, and produce >> Read More... and Sargun Mehta Sargun Mehta is an Indian model, comedian, actress >> Read More... are in the lead roles. This movie will take you on an emotional roller coaster ride where you can feel romance, comedy, and in the end, sad.
3. Sardar Ji
Sardar Ji is the third-best or can say most comedy Pollywood movie. The story of these movies is about a fearless ghost hunter who traps ghosts in the bottle, but he falls in love with the spirit. Diljit Dosanjh plays the role of a ghost hunter, and his comedy skill is fabulous in these movies.
...
4. Guddiyan Patole (Baby Dolls)
This film is full of comedy, romance, and drama. It is the story of two sisters named Nicole and Kash. They both lived in Canada. Both the sisters are forced to come to India for a family occasion where they went to meet their grandmother for the first time. Starring Sonam Bajwa, Nirmal Rishi Bio coming soon... >> Read More... , and Tania.
...

5. High End Yaariyaan
This movie is good to watch when you are missing your friends. If you are into drama, then you must watch this movie. The story of this film is about how three friends, Jassie Gill, Ranjit Bawa Ranjit Bawa is a Punjabi singer, actor, and dancer >> Read More... , and Ninja, who lives aboard, how their friendship evolve over a while. It's a lovely movie about friendship.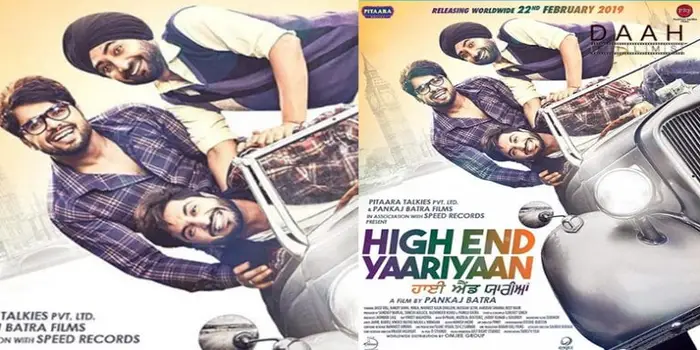 ...
6. Jindua
It is a very romantic film. The director of this film is Navaniat Singh Navaniat Singh is an Indian director who is known >> Read More... . This film has comedy and romance. It is the story of an Indian Punjabi guy who marries a Canadian to legalize his immigration status. But then he falls into more trouble. What happens next? Just watch it. Starring Jimmy Sheirgill, Sargun Mehta, and Neeru Bajwa Neeru Bajwa, is a Punjabi actress born on 26th Aug >> Read More... .
...
7. Asees
Take your tissue and sit down to cry and, at the same time, laugh. In this film, you can see a beautiful bond and understanding between mother and son. It is a very emotional film. You have to watch this movie. The director of this movie is Rana Ranbir. Worth watching.
...
8. Bhaji In Problem
This movie is more comedy than other movies. The story of this movie is about a guy married to two women who are unaware of it. Now you can imagine what are things going to happen? So, whom are you waiting for? Grab your food and sit back and watch this fantastic movie. Starring Gippy Grewal Gippy Grewal is an actor and singer in the Indian >> Read More... and Ragini Khanna Ragini Khanna is a well-known Indian model, film a >> Read More... .
...
Thug Life is a hilarious film. It also has drama. It is the story of young boys who want to earn more money and become successful, so for that, they try to start blackmailing rich people, and in this journey, a girl joined. Worth to watch. Starring Harish Verma and Ihana Dhillon Ihana Dhillon was born in a traditional Sikh famil >> Read More... .
10. Jatt James Bond
Jatt James Bond is another romantic comedy movie. This film is about how a Punjabi guy tries to have a love life. It is worth watching because it's a delightful romantic comedy movie. Starring Zareen Khan and Gippy Grewal.