1. Yash and Avanti Birla
This wealthy power couple of India have all what they need, all riches of the world. They believe in good Karma and love to enjoy and go to abroad with their children or alone quite often. It is said that they have been to countless places all around the globe.
2. Shah Rukh Khan Shah Rukh Khan or also known as SRK is a prominent >> Read More...
On the second number of our list is the King Khan of Bollywood. He is a busy traveler and loves to go on holidays to his favorite relaxing destinations with his wife Gauri Khan Born on Ocotber 8 1970, Gauri Khan (originally kno >> Read More... and kids. Moreover, Shah rukh have to visit abroad hell a lot because of his motion picture shootings.
3. Nargis Fakhri Nargis Fakhri is an actress who pivotally works in >> Read More...
This female has a wanderlust. Nargis possess a degree in Fine Arts and Psychology and hence wanted to become teacher before she entered Bollywood. She says she joined modelling just because she loves travelling. She goes to abroad very much as she is a foodie and enjoy visiting different mysterious places and eating various cuisines of the globe.
4. Katrina Kaif Latest Videos of Katrina Kaif >> Read More...
Katrina Kaif or Ms. Glamorous is another magnificent name in our list of celebs who stays most of the time abroad. One big reason for her frequent foreign visits is her Britain nationality. She is an Anglo-Indian who loves Indian culture yet prefer staying most of the time overseas either for her shoots or refreshment.
5. Akshay Kumar Akshay Kumar was born on 9th September 1967 and hi >> Read More...
Khiladi loves travelling. Whenever he gets time, he escapes to Bali, Spain, France, Maldives, Dubai and long list to go with his soulmate Twinkle Khanna Twinkle Khanna made herdebut in Indian film indust >> Read More... . Akshay Kumar believes in relaxing and chilling after his hectic schedule. He is an adventurous person and adores to roam all around the globe.
6. Shilpa Shetty A model turned actress, producer, entrepreneur and >> Read More...
Mrs. Raj Kundra Raj Kundra, a business magnet from London, United >> Read More... is the other big name in the list of celebs who visits abroad the most. Shilpa with her hubby Kundra flies overseas quite often. This couple loves beaches and coastal areas. Maldives, Pattaya, and Bali are their favorite chilling destinations and they visit here quite regularly.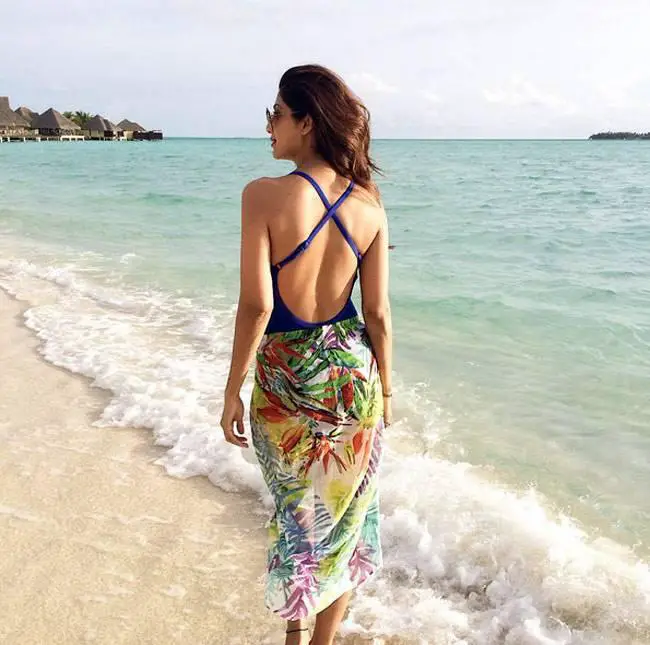 7. Saif Ali Khan Saif Ali Khan is a film celebrity born to actress  >> Read More...
Saif with his Bebo also keep on flying from one place to another. Both husband wife are travel addict and keep on hopping in various parts of the world like- United Kingdom, Italy, Germany, Greece etc. Kareena is in love with beautiful snow covered mountains. Her loved places include Switzerland and Mauritius where she feels like going with her husband Khan quite a lot.
8. Bipasha Basu Bipasha Basu, born in January 7,1979 in Delhi, is >> Read More...
Bipasha, hot dazzling diva admires voyaging. She is a known traveler. She is another beach bum who adores water covered countries. She is a sports freak. Bips is quite often seen jogging and enjoying water sports on the beaches of Thailand and Maldives.
9. John Abraham Like some of our sexy stars, John Abraham has had >> Read More...
There is just no way to ask John about his craziness for travel. He is a cool dude who is all time on vacations other than his work. He follows a mantra of work hard and party harder. He spends all his hard earn money on his abroad outings. He is a routine traveler.
10. Imran Khan Imran Khan is an Indian film actor, who is famous >> Read More...
Imran Khan, nephew of the great Aamir Khan Aamir Khan or Mohammed Aamir Hussain Khan is Bolly >> Read More... is a name who adores travelling a lot. He with his soulmate or friends go for overseas outing a lot. New Zealand and Australia are his favorite spots. He says before dying he wish to step on every nation on the globe.