1. 'Bhoot'
Vishal and Swati fall in love and marry each other. They soon move to a new building on the 12th floor. They don't know that the apartment has the past which is horrifying. A mother had killer her own child. She then jumped off the building and died. Things take a turn when Swati is being possessed by a spirit.
...
2. 'Mahal'
It is probably the first horror movie made in Bollywood. The story is about a man who when moves into a new resident falls in love with a ghost of the previous resident. He becomes obsessed with her and falls for her. It has its own horror elements but not the one that keeps the audience in terror.
...
3. 3 A.M.
...
The story is about a loving couple. The wife does show on paranormal activities and once she was unable to find her Bhagwat Gita and went on the show without it. It was then that she died. Now, her husband decided to do a show on paranormal activities and prove their existence.
4. ' Alone Click to look into! >> Read More... '
It starred Bipasha Basu Bipasha Basu, born in January 7,1979 in Delhi, is >> Read More... and Karan Singh Grover Karan Singh Grover is a famous Indian actor who is >> Read More... . It's a story about a couple who are happily married. But soon Sanjana starts having nightmares about her dead conjoined sister. It is later discovered that her sister was also in love with her husband and then boyfriend, Kabir.
5. ' Saaya Click to look into! >> Read More... '
It is not so horrifying but a definite watch. The story is about a girl Tanya who after her husband's death falls for a doctor Akash. But Akash loves another girl, Maaya and soon marries her. Things change when Maaya dies, but Akash still feels her near him.
6. ' 1920 Click to look into! >> Read More... '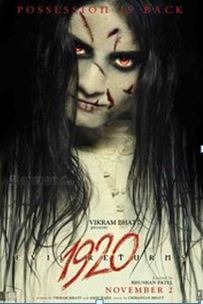 This movie has more of a clichéd synopsis. The guy falls for the beautiful girl. But that woman's mental health is not stable. He soon takes her to a hospital in Shimla. There she gets possessed by an evil spirit. But the thing that gets us hooked up to the movie is to find out what relationship is there between the man and the woman, and why the evil spirit possessed her only.
7. "Ragini MMS"
This movie was similar to Hollywood's 'Paranormal Activity'. It was a tape of a couple who goes to a farmhouse. But soon some unexplained, mysterious, and paranormal activities start to happen with them.
8. ' Raaz Click to look into! >> Read More... '
This one is famous. It is about a couple who are unhappy with their marriage. They decide to leave for Ooty to rejuvenate their marriage and save it. But soon mysterious things start happening. This one is spooky and horror for sure. It was enjoyed by mass and hence was made into a trilogy.
9. ' Shaapit Click to look into! >> Read More... '
This movie is about a young guy who is unable to marry her girl because of a curse that is on her family. He has to find a way to uplift that if he really wants to marry her.
10. 'Kohra'
It is an adaptation of a novel, Rebecca. It is a story about Rajeshwari and Amit. They both meet and fall in love. They soon shift to Amit's mansion. There she learns about Amit's former wife, Poonam, who died in an accident. But former wife's ghost still haunts tha palace.