1. Mohenjo Daro Click to look into! >> Read More...
...
Mohenjo Daro was one of the most awaited films of 2016. There was so much buzz about this project since the director is and the lead actor was Hrithik Roshan Hrithik Roshan with his unimaginable dance moves i >> Read More... .
Historical movies are not made much in Bollywood. But Ashutosh Gowariker is known for such films only. So there was a very optimistic approach towards it by the audience when it released, partially due to the great response the director's last movie with Hrithik ( Jodha Akbar Jodha Akbar is a very popular epic historical tele >> Read More... ) received.
Mohenjo Daro turned out to be a debacle. Not only the film's plot had severe inaccuracy problem but also its CGI was poor as well. The lead actress who made her debut with this was criticized, and the film turned out to be a big box office bomb. It had a budget of more than 100 Crores, but it could hardly recoup it.
...
2. Baar Baar Dekho Click to look into! >> Read More...
...
Baar Baar Dekho had all the elements to become a 100 Crore movie. It had songs that went viral, great star cast, a romantic story, and a Dharma Production Tag. It was a box office dud.
The film had nothing new to offer. Its storyline was also alleged to have been taken from the 2006 Adam Sandler Humour is the thing that emphasizes the character >> Read More... movie Click. The audiences refused to watch this new film with same old romance and its lifetime box office gross of Rs 57 Crores which was way less than its budget of Rs 50 Crore and Promotions Cost combined.
3.    Fitoor
It is another film on the list. 2016 was clearly not the year for her. She had two releases, and both turned out to be box office bombs. She is without any hit since her 2014 release Bang Bang Click to look into! >> Read More... .
Fitoor had a great director in Abhishek Kapoor Abhishek Kapoor is a prominent Indian film actor-t >> Read More... . It had expectations from a particular section of the audience who love romance on screen. But after its release, the film turned out to be boring for the audience. However, the performances were praised.
The film was a flop at the Box Office Box Office is a Tamil entertainment TV serial whic >> Read More... . Maybe it was due to the refusal by the audience to experience another romantic movie. It had a budget of Rs 70 Crore and earned only Rs 19 Crore.
4.    Fan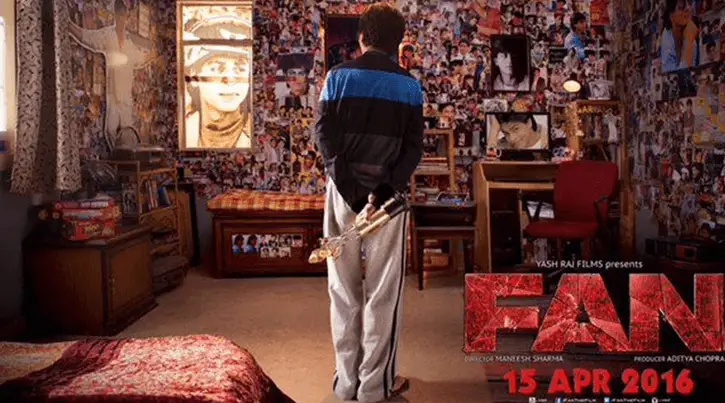 The Box Office gross of Fan is the reason why Shah Rukh Khan Shah Rukh Khan or also known as SRK is a prominent >> Read More... doesn't want to try unconventional movies. He is usually criticized for only picking up romantic or mass entertainment films. But with Fan, he chooses a different film.
Fan was a psychological thriller film which had a great performance from the actor. The film had its flaws, like the ending. Still, the film was a brave opportunity taken by the actor and finally, the audience did not repay the actor's work.
Fan could not even enter the 100 Crore club with a budget exceeding it. 
5.    Rock On 2 
 
The Rock On 2 team blamed the demonetization move by the government on its dismal performance at the box office. The audience blamed the film's storyline, performances, and direction. With all the blaming game, the film which was a sequel to the brilliant Rock On!! Click to look into! >> Read More... flopped badly at the box office with a budget of Rs 45 Crore and grossed only Rs 15 Crore.
6.    Mirzya
Mirzya turned out to be another Delhi 6 for the respected director Rakeysh Omprakash Mehra Born on 7th July 1963, Rakeysh Omprakash Mehra is >> Read More... . He was felicitated by various Award functions for his last directorial venture, Bhaag Milkha Bhaag Click to look into! >> Read More... . Mirzya had new star cast which also included the debut of Anil Kapoor's son. The film was criticized for its long running time and eventually, the film flopped drastically with earning only Rs 1.5 Crore against a budget of Rs 35 Crore.
7.    Te3n
It was another psychological thriller released in 2016. It had a talented star cast along with the legendary . But the film had more flaws than its moments. Eventually, it tanked at the box office.
8.    Azhar
The film was promoted as a biopic on the controversial cricketer of the same name. Instead of being a biopic, the film was a tribute to the cricketer who was involved in match fixing. The film served as a purpose of cleansing the image of him. The audiences refused to go to theaters to watch a film which depicted him as a hero. The film although surpassed its budget but since the expectations with the film were quite high and also the promotion costs could not be recouped, it turned out to be a losing project for the Azhar team.
9. Rocky Handsome Click to look into! >> Read More...
It was referred to as India's John Wick Click to look into! >> Read More... . John Abraham Like some of our sexy stars, John Abraham has had >> Read More... in Tuxedo, killing everyone with a cold look, reunion of the Bombay Rockers, it had its share of media attention. But weak plot and direction could not attract much audience and lost Rs 7-8 Crores.
10.    Banjo
Banjo was a movie after a really long time with Riteish Deshmukh Riteish Deshmukh is the son of a politician, late >> Read More... as the lead actor. It was a musical film and hence audience could not relate to it. Although it did fairly good business in the Maharashtra region, it could not save itself from sinking and was declared a flop after grossing only Rs 13 Crores.