1. ' Raaz 3 Click to look into! >> Read More... '
Bipasha Basu Bipasha Basu, born in January 7,1979 in Delhi, is >> Read More... , , and Esha Gupta Esha Gupta was born in Delhi, India, where she gre >> Read More... were in the lead roles. It's a horror movie directed by Vikram Bhatt Vikram Bhatt (Born 1969) is a prominent film direc >> Read More... . The story was a sequel to the ' Raaz Click to look into! >> Read More... ' series. The story, music and the way it was directed was scary, but the funny part was that there were hardly few scenes like this. The lead roles were always on-screen, so the viewers weren't scared and instead some found it funny.
2. 'Shaapit- The Cursed'
Another horror film directed by Vikram Bhatt, revolves around the tale where the daughters of a family are cursed. It's a tale of love and fear having Rahul Dev Rahul Dev is an Indian model turned film and telev >> Read More... , Aditya Narayan Aditya Narayan is an Indian Television Actor, Anch >> Read More... , Shubh Joshi Shubh Joshi is an Indian Model, who has worked as >> Read More... and Shweta Agarwal Shweta Agarwal is an Indian actress born in Delhi, >> Read More... in the lead. Shaapit was full of curses, ghosts, and romance. It turned out to be funny to some extent because there are few scenes which didn't seem to be full of horror and fear.
3. ' Alone Click to look into! >> Read More... '
For the first time, Karan Singh Grover Karan Singh Grover is a famous Indian actor who is >> Read More... and Bipasha Basu came together for this horror thriller. It wasn't that humorous. The sizzling chemistry that 'Bipasha' and ' Karan Karan is a popular actor in south Indian cinema. H >> Read More... ' shared on-screen received more than attention than the frightening things. The audience weren't impressed by the movie. So instead of getting scared, many times, they burst into laughter.
4. 'Bhool Bhulaiya'
It's a comedy/horror drama. So it's obvious that there are few hilarious scenes in the film which made the fans laugh. It's basis was some horror concept, and there were few fearsome scenes too. As it made the public laugh, it comes amongst the movies which turned out to be.
5. 'Haunted'
A great attempt by Vikram Bhatt to create India's first stereoscopic 3D horror film. People found this cinema to filled with humor because of its script. There were many scary scenes though, and music added the cherry to the cake. The cast couldn't impress the audience much. That's why it didn't even do well at the box office.
6. 'Kaal'
The movie is  different than expected. It starts with an item song. In such a case, how can people watching it find it to be scary? The second funny part is when the climax comes a tiger turns into a man-killer. The audience couldn't accept this part. People just kept laughing and couldn't find anything horror here except the animal sounds.
7.'1920 Evil Returns'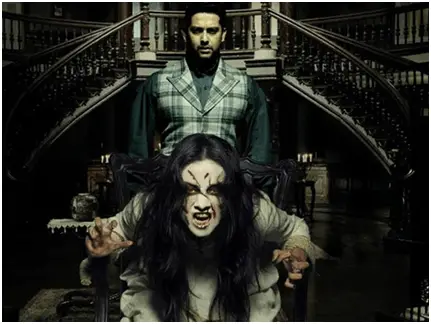 This is another attempt by Vikram Bhatt to scare the audience and give a big hit horror movie. But when it comes to horror, Bollywood movies usually end up failing the expectations of the people. This horror drama couldn't scare the numerous fan present around much, but it made them laugh. It was hilarious and not scary. But of course, there were few scenes where people felt fearsome. The overall impact of the movie wasn't actually as expected.
8. ' Phoonk Click to look into! >> Read More... '
Based on superstition, it couldn't attract many people. The story was more focused on the story of a crow and it seemed as if the crow played the lead role. Yes, some scenes were indeed horrifying. The overview of the movie involved superstitions, black magic and the life story of a crow. The story disappointed the fans, and few found it funny.
9. 'Papi Gudia'
The film lost its scariness as it had Shakti Kapoor Personal life: Shakti Kapoor was born in Delhi, In >> Read More... in the lead role. He is usually known for his funny acts. No one could imagine him a horror movie. Except for the name, the public didn't find any other thing to be nerve-racking. They did enjoy the film, though.
10. ' Aatma Click to look into! >> Read More... '
Bipasha Basu and Nawazuddin Siddiqui Nawazuddin Siddiqui was born in Budhana in Muzaffa >> Read More... came together for this film. It was rare and odd to see them together for a horror movie. It wasn't a hit at all as its story was common. Nawazuddin Siddiqui is known for doing thoughtful movies. A horror one is not his type. Overall, the film looked funny than not scary.