Everyone sometimes feels stressed and has negative emotions. But everyone gets rid of them differently. Some go to a therapist or meditate; others play at online casinos or watch movies. Here are the 6 films that will help you get rid of negativity.
Yes Man - 2008
The main character is depressed. He constantly says "no" to his clients at the bank, refuses his friends' invitations, and has no interest in anything. Then, one day he went to a psychotherapist and he gave him a piece of advice that radically changed his life - to always say "yes" to everything.
Miss Sloane - 2016
Elizabeth Sloane is the most sought-after and risk-taking lobbyist and a shark in the American political business. With deft psychological gamesmanship and the art of manipulation, she blows her opponents away with her unpredictability and never loses. But when she takes on the toughest case of her career, she realizes that the price of victory may be too high.
Mr. Nobody - 2009
Waking up as an infirm old man, Nemo Nobody turns out to be the last mortal in a grotesque future. Everyone has long been immortal and enjoys watching a TV show where the main star is a decrepit and demented old man, Nemo, who lives out his last days. On the eve of the end, a journalist comes to see him, and Nemo tells him his story, jumping from one life to another parallel, having managed to die several times during the story.
The Odd Life of Timothy Green - 2012
The movie tells the story of a married couple Cindy and Jim Green, whose years of trying to have a child, despite using all available methods, have been unsuccessful. So one night, they decide to imagine what they would like their child to be. They wrote down their thoughts on pieces of paper from a notebook, which they then put in a box and buried in their yard. That same night, after a big storm, they find ten-year-old Timothy in their house, calling Cindy and Jim his parents. It isn't until they see the leaves on his feet that the couple realize that the child is much more unusual than they thought...
I Origins - 2014
The film tells the story of a molecular biologist who is researching the evolution of the eye. He begins a passionate affair with a young mystery woman, Sophie, while working intensely with his assistant, Karen. He makes an important discovery that confirms the evolutionary theory of the origin of the eye in living things. But Sophie's death and a series of events related to the coincidence of retinal patterns in various deceased and born people force him to continue investigating the features of the human eye in a completely new direction.
Penelope - 2006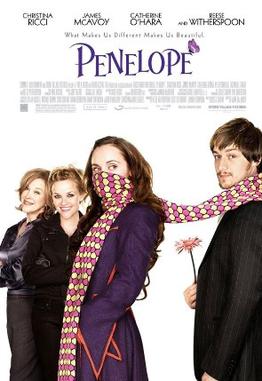 Penelope was born into a wealthy aristocratic family. For many years, the girl has had to hide her face from others. Instead of a nose, she has a pig's snout, which will disappear only if a young man of noble blood will truly loves Penelope and marry her. One day the girl runs away from home to learn to live independently and accept herself as she was born.