Are you planning to watch a movie tonight with your friends about the lifestyle of professional gamblers?! Hollywood and Netflix have made many movies on making a fortune from gambling and how Las Vegas Serial Story Coming Soon... >> Read More... casinos changed the lives of millions overnight after a quick game session, but, as we all know, movies are based on dramatic exaggeration! If you have a desire to try gambling games and want to watch gamblers' movies, there are some misconceptions promoted by the movies that you should be aware of, namely:
The mafia does not run any casino in Las Vegas!
Players cannot accumulate millions of dollars from card counting at blackjack tables.
Casinos don't hire professional players to beat you if you win too much.
Casinos do not have prison cells to imprison suspects.
Real-life poker hands are not as perfect as in the movies.
Although remembering these facts while watching will make the movie less attractive, remember that they don't correspond to reality! Other than that, gambling is a pastime, and watching movies is also an entertainment activity, so you can safely enjoy them together as long as you don't waste too much time and money!
In the following list, we have recommended the top 5 films that shed light on the luxurious world of Las Vegas casinos, the way gamblers live, and how they make fabulous fortunes! Check this amazing online Casino platform - Gamblingpro.pro and also try your luck to win a fortune!  
...
When writing the film's briefs, we were careful not to spoil the movies' plots, and we only referred to the film genre and the kind of its events so that you know exactly what you can expect from each movie! Take a look at the listed films, pop some popcorn, gather your friends, and start the show!
1. Casino (1995)
Casino is an American movie released in 1995, directed by the well-known director Martin Scorsese Martin Charles Scorsese is one of the most celebra >> Read More... , who presented many iconic works such as (Goodfellas, The Irishman, Taxi Driver, The Wolf of Wall Street). This movie is based on the book that bears the same title by Nicholas Pelegy and Larry Chandling, and the book itself is based on actual events.
Robert De Niro A legendary actor and one of the most influential >> Read More... plays Sam Rothstein, a manager of several Las Vegas casinos, and Joe Pesci Joe Pesci is an American comedian, actor, and musi >> Read More... plays Nicky Santoro, a casino mobster and revenue collector. Sharon Stone Sharon Stone is a popular Hollywood actress and sh >> Read More... plays the arrogant and mischievous Ginger (Sam Rothstein's wife), for which she was nominated for an Academy Award for Best Leading Actress of the Year.
...
As you might have guessed, this is a gangster movie par excellence like Goodfellas, also starring Robert De Niro and Joe Pesci and directed by Martin Scorsese.
This film is not mainly focused on gambling, and you won't find tense poker hands, fights at the blackjack table, trials to crack slot machines, or a true love story, yet it is considered one of the best gambling movies. What you'll find in this movie is cinematic re-treatment of a true story that revolves around greed, deceit, money, power, and murder.
...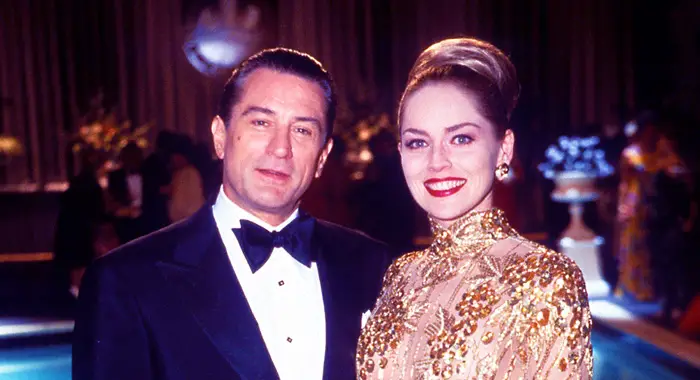 2. The Sting (1973)
The Sting is a black comedy film released in 1973. This movie deals with the attempt of swindlers Paul Newman Paul Newman, a man full of qualities was an Americ >> Read More... and Robert Redford One of the most remarkable voices in Hollywood cin >> Read More... to rob a gang, but the ending is stranger than fiction! This movie is full of twists and turns every moment, so you will stay glued to the screen for the whole duration of the film. This movie achieved massive success in its release year and earned more than 160 million dollars. Besides achieving high grossing, it has also won critical acclaim and 7 Oscar awards.
...
3. The Hustler (1961)
The Hustler is the oldest classic on this list. This movie depicts a small crook who masters billiards and other casino games. This crook travels with his partner across different states, making good profits from gambling. Yet, he faces the legendary gambler, Minnesota Fats.
Although the movie was released when internet gambling did not exist, it became a huge hit and turned Paul Newman into a famous star. If you have a critical soul and love black and white films, you will love this movie, but otherwise, this movie is incredibly sarcastic and cold from start to finish! This movie does not contain any comedy or dramatic action. Therefore, do not expect exciting table game shots or unique strategies that you can apply in casinos outside of GamStop.
...
This movie production budget is $2,125,000, and it has made a net profit of $7,600,000. Considering that it lacks the promotional mix that blockbuster movies contain.
...
4. Rain Man (1988)
Rain Man is a 1988 drama film based on the true story of Kim Peek, an American man who is autistic but has exceptional mental abilities. The film tells the story of two brothers; The eldest is Dustin Hoffman He will play tricks in your mind as you watch his >> Read More... , who has autism, and the younger brother is a young man, played by . The movie's events start with the father's death, and when Tom Cruise tries to get the inheritance, he discovers that he has a co-inheritance brother! The rest of the movie events develop between the big brother with extraordinary mental abilities and the reckless young brother who wants to enjoy life. This film won 4 Oscars and was nominated for 4 more. Although this movie is not primarily about gambling, it takes a look at the temperament of gamblers, especially when they suddenly receive an inheritance. On the other hand, Rain Man film has become the standard dramatic piece that portrays a person with autism.
...
5. 21 (2008)
This movie is set in the ancient era before casinos discovered shuffle machines! Like most of the films mentioned above, 21 is based on the true story of six MIT students who team up and train to scam Las Vegas casinos at blackjack tables by the card counting strategy.
This movie revolves around Kevin Spacey Kevin Spacey is a film writer, producer and direct >> Read More... , who plays Math Professor (Mickey Rosa), this professor is working on training students on the perfect blackjack strategy. Still, things don't go the way the professor expected, and a lot of adrenaline-fueled events then happen!