Sports have been around since time immemorial. Also, there are hundreds of movies out there that feature sports. Some of them are highly successful. While playing online games, most of the gamers would always aim not to win the game, but not to lose the hard-earned money. So, they follow Roulette Strategies while playing online casinos.   A lot of the popular sports movies revolve around betting. Any sport, when combined with betting, makes a popular plot for a blockbuster movie. Nevertheless, there are many other great sports movies that you should watch at least once in your lifetime. 
Here are 10 such movies. Some of these are even based on true events. So, without wasting much time, let's dive in.
1. Jannat
...
Released in 2008, the movie shows how a gambler becomes India's biggest cricket bookie because of his sixth sense for cricket. It was a highly successful movie showing everything about cricket betting in India and how people were making money out of it. The storyline revolves around Arjun, who was a reckless youth obsessed with making money in Teen Patti Click to look into! >> Read More... . Later on, he managed to become a bookie himself and fixed matches directly with cricket players. He lost his life in the end when he was fixing a match in the player's dressing room and was caught by the team's coach.
2. Fire in Babylon
...
This is a documentary movie that came out in 2010 directed by Stevan Riley. Fire in Babylon revolves around the West Indies cricket team. The movie shows how a group of people changes into a powerful cricket team. This is primarily for veterans who want to relive the West Indies cricket team's memories and era.
...
You will see the movie narrating the ventures of the cricket team during the 70s-80s. It gives an insight into racism and political anxiety during the period. Fire in Babylon shows the importance of a good captain in a cricket team.
3. A League of Their Own
...
Baseball fans know, 'there's no crying in baseball.' However, this line by the cruelest yet charming coach, Jimmy Dugan, played by , is one of the most unforgettable baseball movies.
The movie is set in the period of . As men go off to war, a man in the candy business invests a great deal of money in the female baseball league. This is surely one of the best movies that you will come across. Tom Hanks coaches the team, Peaches, and he has played the role remarkably. His character was sarcastic and witty. Penny Marshall Carol Penny Marshall, born on 15 October, 1943 in >> Read More... does an excellent job by recounting a story that is light on its feet. The movie has a lot to say about sibling rivalries and gender politics.
...
4. Bend It Like Beckham
...
Who hasn't heard about the movie Bend It Like Beckham! In 2002, people couldn't shut up about the movie or the title. The story set in London is about a teenager Parminder Nagra Parminder Nagra is a British born-Indian origin ac >> Read More... who is in love with soccer. It shows how she has to deal with her disapproving parents and the culture clash. There is an infectious lightness that goes along with the drama. From beginning to end, this is a wonderful movie with David Beckham jokes and satisfying drama.
5. Field of Dreams
...
Are you in need of a little motivation? Watch Field of Dreams. It is one of the movies that you can watch on a cozy night. In this movie, a voice speaks to Ray Kinsella, asking him to create a baseball field. It says if he builds it, 'he' will come. As he creates the baseball field, the spirits of dead baseball players are seen. These players include his father, John Kinsella. This is an excellent movie about a man who will do anything to catch a glimpse of his father one last time. However, as he builds the field, he doesn't know that that will be the outcome.
6. Hoosiers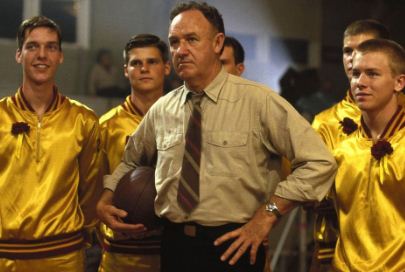 This movie is all about a new basketball coach in high school, Normal Dale. He inspired the townsfolk and the players to be their best. The movie was set in 1954. It has everything that a good sports movie requires.
A new coach who is doing things his way
A team that people do not expect to win
An inspirational speech before the game
A winning shot from Jimmy Chitwood, the unexpected star.
You can easily take this to be one of the best movies ever. It will inspire you. The movie tells you that no matter what obstacles stand in your way, you can achieve great heights if you believe in yourself.
7. Rocky
Rocky is a meaningful and simple underdog story. It only grows deeper as time passes by. All parts of this movie are incredible. The story is about a boxer in Philly who gets a shot at a title. With Adrian's help, his wife; Mickey, his trainer; Pauly, his brother-in-law; and his friends, he is successful in winning the title. He is shown to become the greatest fighter of all time. 
He defeats Ivan Drago, Apollo Creed, Clubber Lang, and Tommy Gun. Rocky comes from nothing and goes on to achieve great success. The movie is full of heart-string pulling moments.
8. Miracle
This movie is based on the story of the greatest victory in the history of sports. It is about hockey games. The American hockey team plays against the Soviet Union at the Winter Olympics 1980 and gets defeated. The character by Kurt Russel, Coach Herb Brooks, has been portrayed beautifully. When he was young, he had a chance at gold, but it was taken away from him. It is a cut that doesn't get healed until he gets a chance at the 1980 Winter Olympics.
9. Rudy
Rudy Ruettiger, played by Sean Austin, grows up in a poor Irish home. He dreams of going to the University of Notre Dame. Rudy has to work every day of his life and doesn't get a break. He just had his best friend who does while working in the plant.
After being rejected thrice, Rudy gets accepted into the University of Notre Dame. He prepares for his football tryouts and ultimately makes it as a walk-on. Rudy doesn't play up for a single game until the senior game. This is a great movie to watch.
10. The Sandlot
It is one of the most popular sports movies of all time. The movie is about a group of kids who love playing baseball. When one of the kids is in trouble, all others rally to help him. The movie is about the problems that these kids had to deal with.